State
Three held with heroin in state
Shillong, July 10: Police on Sunday arrested three persons  in connection with possession of drugs.
While one person was arrested from East Khasi Hills, two were held from West Garo Hills.
According to SP VS Rathore, in a special operation conducted by Anti-Narcotics Task Force, West Garo Hills, on Saturday,  two drug peddlers namely Cherak R. Marak, R/o Gongadamal,West Garo Hills and Tengsuang S. Sangma, R/o Balsri Ading, Williamnagar, East Garo Hills were arrested on Sunday from Tura Bazar with around 8.19 grams heroin. One Maruti Alto car (ML-08G-6541), Rs 14,230, two mobile  phones and other incriminating materials were also seized.
In this regard, a case vide Tura PS case no. 150(07)2022 u/s 21(b)/25/27/29/30 NDPS Act was registered.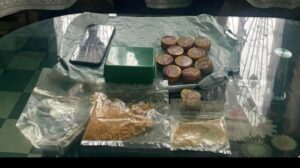 According to East Khasi Hills police, based on inputs received from SP Tura who had ascertained the sender of drugs seized in Tura, the anti-narcotic task force,  EKH along with Madanryting PS raided the residence of  Bryan Nongmor, ( 25 ) of Laitkor Rngi and recovered 10 empty tobacco tins, 1 tobacco tin containing heroin weighing 0.69 grams, 1 soap box containg a heat sealed packet having heroin of 3.74 grams and one mobile phone. The total heroin seized is 4.43gms. A case under the NDPS Act is being registered at Madanriting PS, police added.