State
BPO company expands service in city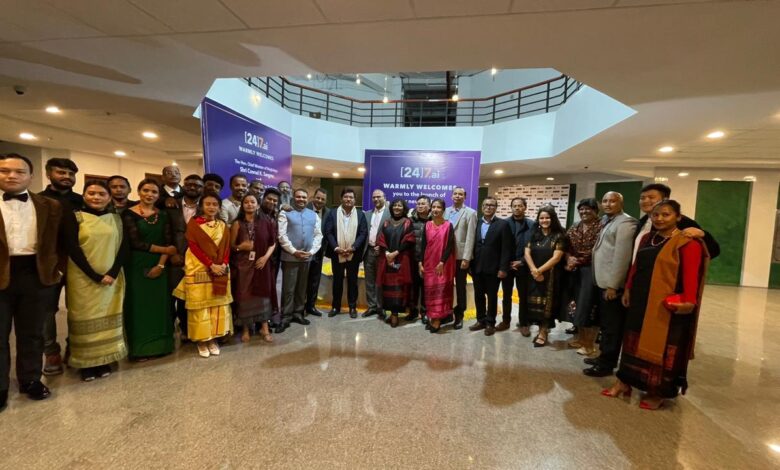 Shillong, Dec 3: The California headquartered [24]7.ai – a global leader in intent-driven customer solutions and contact center services, has expanded its presence in Meghalaya with a 400 seater state-of-the-art International Business Process Outsourcing (BPO) facility at Shillong Technology Park, on Saturday.
Chief Minister Conrad Sangma and Minister for Information Technology and Communication Development Hamletson Dohling, inaugurated the 25,000 sqft. facility, the third delivery center in India.
Over the next two years, the company aims to make significant investments and create over 2500 direct and indirect job opportunities in Meghalaya.
The company is also present across North, Central & South America and Philippines. Its customers include Fortune 500 companies. The company's international facilities will also offer team members the chance to pursue careers globally.
[24]7.ai has been operational in Shillong for over a year with a current headcount of 300 employees. The new 400-seater, state-of-the-art facility at the Shillong Tech Park is spread over 25,000 sqft of space. A vibrant interior design pays tribute to the people and culture of Meghalaya. Training rooms, breakout areas, a medical center and a cafeteria are part of the facility, which is designed to create an environment that is stimulating and inclusive for all.
Chief Minister  said "We are extremely proud that [24]7.ai has expanded its operations in Meghalaya by setting up a 400 seater world-class facility at the Shillong Technology Park. This is the first such international BPO in the state. Providing employment opportunities to the youth of Meghalaya is the need of the hour", he said.
Animesh Jain, Chief Delivery Officer – India & Americas, [24]7.ai said, "We are delighted to unveil our new facility at the Shillong Technology Park. We began operations 22 years ago and Shillong is amongst the latest of our 16 global centers".