Sunday Monitor
Ateliers ahoy: Young artists make a mark in pottery, terracotta & bamboo handicrafts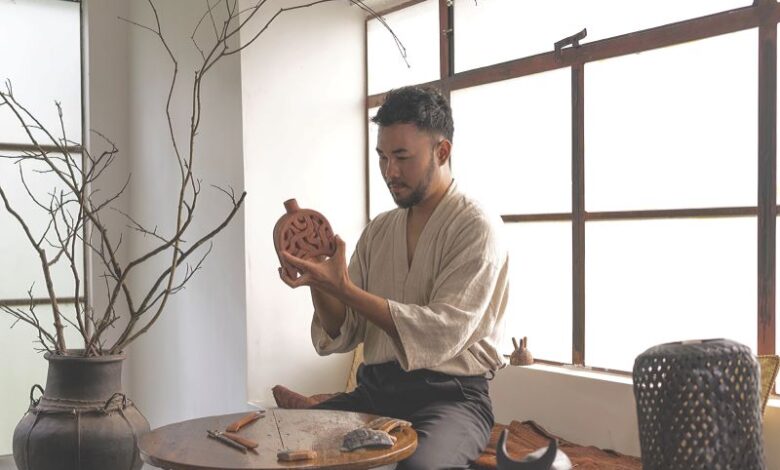 The Meghalayan Age is supporting artists from different districts and funds them to set up infrastructure for their ventures. Sunday Monitor speaks to three young artists who have made a mark in their respective fields.
Andrasphera Kharmawlong:
The young artist from Mairang in Eastern West Khasi Hills is an alumnus of Viswa Bharati and specialises in ceramics and glasses. However, his keen interest in indigenous black clay pottery prompted him to visit Lyrnai village in West Jaintia Hills and collaborate with local potters in October 2019.
"While studying at Viswa Bharati, I went to Paris on an exchange programme in 2016 and was there for eight months. During that time, I was looking for a graduation project from Meghalaya. It was then I came to know about black clay pottery and started working with new designs," said the 29-year-old artist.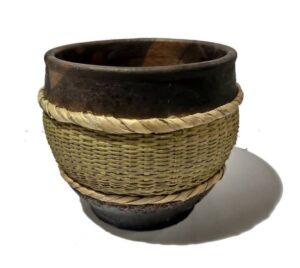 Kharmawlong's pottery designs are modern and yet have traditional aesthetics. The blend of modernity and tradition adds another dimension to the creations.
When Kharmawlong visited the potters in Jaintia Hills, he found some modern machines in their possession and came to know that those were given to them by the government. "However, they were never instructed on how to use the machine. It was then that I decided to teach them how to use these machines alongside the traditional method. They require less amount of clay in the machines," he said.
The form of pottery is also practised in Tyrchang village in Thadlaskein block. The primary raw material, the clay is procured from Sung Valley and is handed over to the potters once every year by the Nartiang Doloi. This makes the pottery rare. According to Kharmawlong, procuring this high-quality clay is a challenge.
Besides pottery, Kharmawlong also plans to diversify to glass and ceramics. He is setting up a studio, called the Ceramic Studio, in Mairang with the help of government funding for Ateliers. He plans to train local artisans in firing glass to make various articles.
"For this, one requires some specialised equipment and I am in the process of setting the studio up. I have already bought a few machines and some are yet to be procured," he informed.
Arak M Sangma:
Terracotta is not indigenous to Meghalaya but Arak M Sangma, who is from Tura, was fascinated by the art form when he first saw it during his visit to Bolpur in West Bengal.
Sangma's collections go under the brand name A.kakki, which means clay in the Garo language. He collects the clay for his creations from an ancient site in the Garo Hills. Every creation of his is a reflection of the Garo culture.
"Every souvenir piece that I make is inspired by our culture and tradition as well as nature. For instance, the terra bull is inspired by the jackfruit bulls which we used to make as a child. My creations are also inspired by folk tales," said the artist, who has been exhibiting his creations since 2011.
Rooted in the Garo culture, the terracotta artefacts of A.kakki depict the young artist's journey through art. As a child, he would make clay figurines and model fruits. Later, he studied Bachelor of Fine Arts (Applied Arts) at the Government College of Art and Crafts, Guwahati. Sangma is also a painter and the canvas was his medium of creative expression before he started terracotta in 2020.
"The Atelier programme helped both financially and morally," said Sangma, who used the Rs 5-lakh fund to set up the terracotta start-up.
Sangma's creations are sold at the Meghalayan Age store in New Delhi. He also uses social media to market his creations.
Rocky Kynter:
Rocky Kynter, who hails from Mawsynram in East Khasi Hills, is a self-taught artist. His bamboo articles have earned him a place among the Meghalayan Age Atelier artists. Speaking to Sunday Monitor, Kynter said he saw his mother and sister weave bamboo baskets and that piqued his interest in the art form.
The 36-year-old artist has been making bamboo baskets for the last four years. He also makes traditional bamboo pandals during weddings and other occasions.
"I supply the bamboo and cane articles as per orders. I also employ workers when I get contracts for making traditional pandals," said Kynter.
The government's fund under the Atelier scheme has helped Kynter set up his workshop and gather raw materials.
~ Team Sunday Monitor
(Photos sourced)