Shillong, Oct 8: The body of trainee mountaineer Tiklu Jyrwa (in picture) will be brought to Shillong, on Sunday.
Jyrwa (35) is a resident of Upper Lumapring.
Huntin Lyngdoh ,the sister -in-law of Jyrwa, said on Saturday that arrangements are being made in Uttarakhand to bring the body  to Shillong.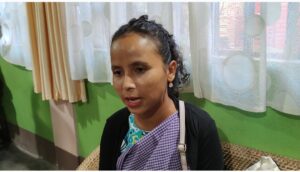 "We expect the body to arrive on Sunday", she said.
Earlier in the day, Jyrwa's brother-in-law and mountaineer  Wallambok Lyngdoh, who is camping in Uttarakhand, identified the body.
Jyrwa is the husband of the youngest sister of Wallambok, the general secretary of Meghalaya Sport Climbing and Mountaineering Association ( MeSCMA).
Jyrwa, a member of MeSCMA, was part of a team of 41 trainees of Advance Mountaineering Course besides  instructors of Nehru Institute of Mountaineering (NIM), Uttarkashi.
They were struck by the avalanche while returning from the summit of Mt Draupadi Ka Danda II at Uttarakhand.
Jyrwa was sponsored by the Directorate of Sports and Youth Affairs through MeSCMA for the advance mountaineering course .