State
BRO motorcycle expedition team arrives in city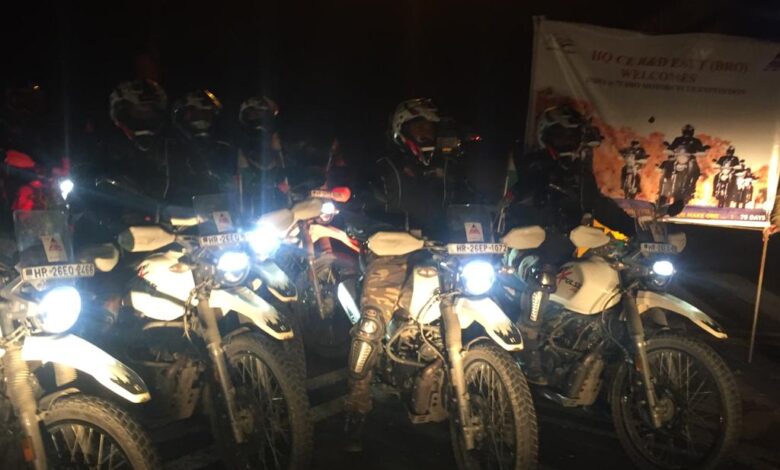 Shillong, Nov 23: The Border Roads Organisation's (BRO) motorcycle expedition team received a rousing welcome in Shillong.
Sunil Kumar Choubey, SE(Civ), Officiating Chief Engineer, HQ R&D Estt(BRO) welcomed the expedition team to Meghalaya at HQ R&D Estt (BRO) Shillong on Tuesday.
Choubey highlighted the yeoman service being done by BRO in connecting places, connecting people in the country in general and Meghalaya in particular.
He also urged the youth of the State to contribute towards nation building.
The BRO is conducting India@75 motorcycle expedition from October 14 to December 27 touching all corners of the country to spread awareness of contribution of BRO in nation building and road safety among others as part of the celebrations of Azadi Ka Amrut Mahotsav.
The expedition is being conducted in seven legs and Meghalaya is being covered in leg 4.
The expedition commenced from Arunachal Pradesh on November 16.
Defence Minister Rajnath Singh had flagged off the expedition from National War Memorial Delhi.
First of its kind, this expedition will cover 20,000 km over 75 days with more than 75 riders including officers and other ranks from BRO.
The expedition will culminate at New Delhi on December 27 after traversing the entire perimeter of India.
The expedition has both social and military themes. It aims to motivate youth to join the elite BRO, and also to interact with gallantry awardees, ex-servicemen and war widows en route.
It also aims to spread the accomplishments of the nation towards Aatmanirbhar Bharat through several public outreach programmes.