Headlines
Call for 360 degree digital repository on Tirot Sing
Shillong, July 17: Commissioner and Secretary of Arts and Culture FR Kharkongor on Saturday stressed the need for building a 360 degree digital repository on Tirot Sing for young generation to have access to the story of the state's brave hearts and unsung heroes, especially in the context of 'Azadi ka Amrut Mahotsav', celebrating 75 years of India's Independence. The department of Arts and Culture in collaboration with the Meghalaya Model United Nations organised a wreath laying ceremony in front of the statue of the freedom fighter at Fire Brigade Ground, here in commemoration of his 186th death anniversary.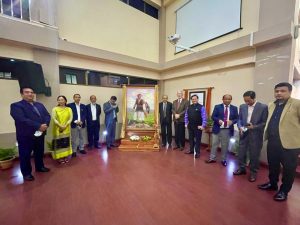 Kharkongor said there is also a need for revisiting colonial version of history to get an all round perspective.
"Documentaries, movies and digital blogs are required to study tribal resistance movements as precursors to national movement", he said. He reminded the gathering about the sacrifice of U Tirot Sing and other freedom fighters of the Anglo- Khasi war. The local movement led by U Tirot Sing and other unsung heroes like Kiang Nangbah and Pa Togan Snagma  formed an integral part of the rich narrative of tribal resistance which in actuality was a precursor to the Indian national movement, he said.
Earlier, a similar function was organised at Synod College and the portrait of Tirot Sing was unveiled by Rajya Sabha MP WR Kharlukhi.
Besides Kharkongor, former chairperson of UPSC, David Syiemlieh, President of Khasi Authors Society,  DRL Nonglait and Synod College faculty were present.