International
China supports B'desh in safeguarding national sovereignty, independence: Xi Jinping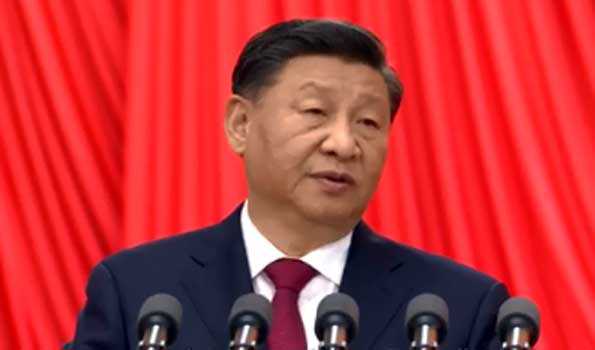 Dhaka, Aug 24 (UNI): Chinese President Xi Jinping on Wednesday said China supports Bangladesh in safeguarding national sovereignty, independence and territorial integrity, and in opposing external interference so that the country can maintain domestic unity and stability, and achieve development and revitalisation, said a statement of Chinese embassy here on Thursday.
The statement further said Xi, in his meeting with Bangladeshi Prime Minister Sheikh Hasina on the sidelines of the BRICS summit, also urged the two sides to step up cooperation in infrastructure, information technology, new energy and agriculture, among other areas.
The meeting was held at the Hotel Hilton Sandton in the evening on the sidelines of the 15th BRICS Summit.
The Chinese president called on China and Bangladesh to push for high-quality Belt and Road cooperation and give full play to their economic complementarity.
China and Bangladesh enjoy traditional friendship, Xi said, adding that the two sides upgraded bilateral ties in 2016 to a strategic cooperative partnership, which has indicated the direction for deepening their cooperation, according to the statement.
At present, both China and Bangladesh are at a critical stage of their own development and revitalisation, and the Chinese side is willing to strengthen the synergy of development strategies with Bangladesh, deepen practical cooperation in various fields, push bilateral strategic cooperative partnership to a new level, and better benefit the people of the two countries.
The report also said the Chinese side is willing to continue working with Bangladesh in supporting each other in issues involving their respective core interests.
Xi also called for stronger personnel exchanges as well as deeper cultural and people-to-people bonds.
He extended congratulations to the prime minister on her country's joining the New Development Bank, saying that China is willing to strengthen coordination and cooperation with Bangladesh in multilateral affairs and to safeguard international equity and justice as well as the shared interests of developing countries.
Hasina noted that Xi's state visit to Bangladesh in 2016 has become a milestone in bilateral ties.