Headlines
Cong seeks central intervention to address border dispute  
Conrad speaks to Himanta on Iongkhuli incident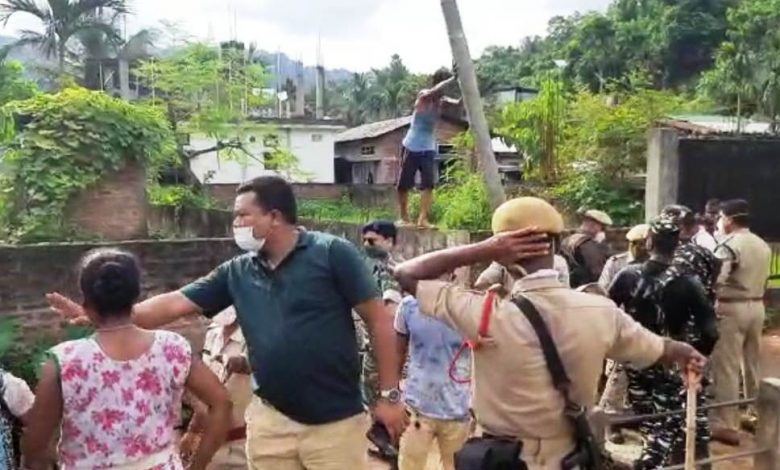 Shillong, July 27: The opposition Congress has asked the union home ministry to intervene to address the border dispute in Assam, Meghalaya and Mizoram.
The Opposition chief whip and Congress legislator P T Sawkmie said on Tuesday that the union home minister should convene a meeting of chief ministers of Assam, Meghalaya and Mizoram to discuss the border dispute along with the home ministry officials.
The suggestion is following the incident of intrusion by Assam police at Iongkhuli village in Ri Bhoi.
However, Chief Minister Conrad Sangma told reporters that he has already taken up the matter with his Assam counterpart.
"We have also entrusted the local MLA to visit the area and to submit a report", Conrad said.
Zenith flays state's inaction   
In a related statement, the Congress spokesperson and Rangsakona legislator Zenith Sangma, while condemning  the alleged illegal encroachment by Assam government, asserted that both the states should resolve the border issue amicably but not by using force.
"We condemn this illegal act of Assam Police where they manhandled our elected MDC Charles Magnar in the strongest word we can ever pronounce," he said.
"Is the government sleeping so long or is it because of the weak leadership or the present government does not bother for all these. We want the reply," he said.
The Congress leader said when the local people contacted the MDC, Charles Magnar at around 11 30 am, he rushed immediately and reached the spot around 1.45 pm but the SP, Ribhoi, reached after 4 pm only although he was informed at 11.30 am.
"Immediately after getting the information, the MDC informed the Deputy CM, Prestone Tynsong but there was no action and when the MDC contacted him again his call was not attended to. This is the state of affairs in our state under the present government; we don't know what is their priority?" he said.