Shillong, March 12: Assam police official Anurag Agrawal has been posted as IG, CRPF, Shillong ( NE sector) in place of Sonal V Misra.
The notification for the transfer was issued on March 10.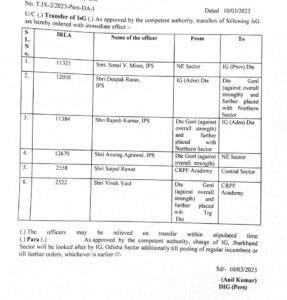 The Shillong assignment comes a month after the 1998 batch IPS officer of Assam-Meghalaya cader was given central deputation as IG, CRPF for five years from February 2 this year.
Agrawal had faced flak for handling Assam-Mizoram border issue.
Following the border clash, a portion of the FIR filed by Mizoram police against the official among others states that "on 26.07.2021 at around 11:30 AM, about 200 fully armed Assam Police personnel led by Mr. Anurag Agarwal, IPS, IGP Assam came to Mizoram Police Camp/BOP site at Auto Rickshaw stand, Kawngthar veng, Vairengte after crossing the 225 Bn. CRPF Camp located just below Mizoram Police Camp/BOP".
The Mizoram police personnel were deployed at the BOP to prevent outside forces to enter Mizoram following the status quo deal between Assam and Mizoram.
Several Assam police personnel were killed and injured in the incident.
As the Assembly elections are over, Meghalaya government will start the next round of border talks.