National
Draupadi Murmu: From being a teacher to President
Former BJP leader becomes country's first tribal & second woman president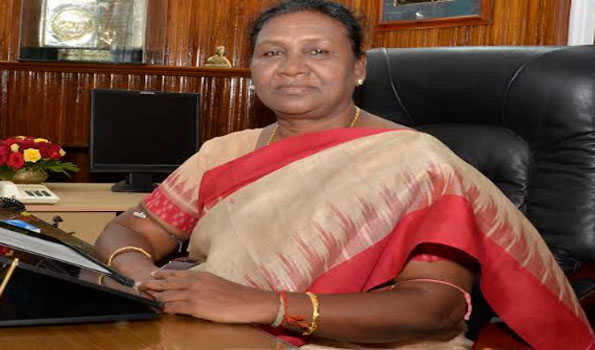 New Delhi, July 21 (UNI): Draupadi Murmu, the President elect who will succeed Ram Nath Kovind, the first tribal woman to hold the top post, comes from a humble background from a far-off village in coastal state of Odisha.
Murmu, 64, was also considered one of the strong contenders for the post ahead of the 2017 presidential polls. But eventually, present President Ram Nath Kovind, a Dalit leader, was chosen.
The second woman to be the President and the first tribal to hold the post, Murmu was born in Uparbeda village in Odisha's Mayurbhanj district in a Santali tribal family on June 20, 1958, she had a humble beginning. Her father, Biranchi Narayan Tudu and grandfather had served as sarpanch in their village.
Murmu started out as a school teacher before entering state politics. She worked as an assistant professor at the Shri Aurobindo Integral Education and Research Institute, Rairangpur and junior assistant in the irrigation department, Government of Odisha.
She joined the BJP in 1997 and was elected as the councillor of the Rairangpur Nagar Panchayat, going on to become the Chairperson of Rairangpur Nagar Panchayat in 2000. She also served as the national vice-president of BJP Scheduled Tribes Morcha.
During the BJP and Biju Janata Dal coalition government in Odisha, Murmu served as the Minister of State with independent charge for Commerce and Transport from March, 2000 to August, 2002 and Fisheries and Animal Resources Development from August, 2002 to May, 2004.
Murmu served as the ninth Governor of Jharkhand from 2015 to 2021. She married Shyam Charan Murmu, a banker, who died in 2014. The couple had two sons, and a daughter. Her husband and sons are no more.
In 2009, one of Murmu's sons — Laxman Murmu passed away, at the age of 25 years, he was found in an unconscious state in his bed. In 2012, Draupadi Murmu lost her second son in a road accident, and in 2014, her husband died of a cardiac arrest.
The tragedies made her inclined towards spirituality, and she has been associated with the spiritual organisation Brahma Kumaris.
Itishree Murmu, her daughter works in a bank and is married to Ganesh Hembram, who is a rugby player.
Murmu scored over 50 per cent of the total vote value after three rounds of counting.