Shillong, Oct 2: The Meghalaya governor's message on the occasion of Gandhi Jayanti was missing from local newspapers and websites on Saturday.
On any occasion, be it religious, social or anniversaries of prominent personalities, messages from the governor, the chief minister and the Assembly speaker are sent out to media houses in the form of advertisements. However, this time, the governor's message was missing.
When asked, a senior official at Raj Bhavan said there was "some coordination issue".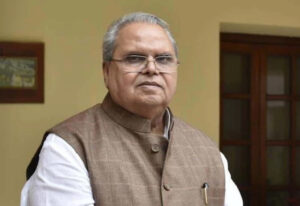 "We are giving Press Release of the celebration of Gandhi Jayanti in Raj Bhavan," the official said, adding Governor Satya Pal Malik is in the city.
The governor paid floral tribute to Father of the Nation at a programme at Raj Bhavan on Saturday morning.
At the Secretariat Building, newly appointed Chief Secretary RV Suchiang and senior government officials paid floral tributes to the statue of the Mahatma on the premises.
The vice president, M Venkaiah Naidu, will visit the state on October 4-5 to lay the foundation stone of the upgradation of NH-40 between Shillong and Dawki.