Headlines
Sunday Monitor
Laugh but don't forget to think
In times of crises, cartoons exposing the weak system are more than a comic relief
Last week, a cartoon by renowned artist Manjul from Kerala created furore in Delhi. The cartoon — showing Prime Minister Narendra Modi ducking under the table when the Covid-19 graph was shooting up and appearing on the television screen when the graph showed downtrend — did not augur well for the current Union government, which has zero tolerance level, and as a kneejerk reaction, it ensured that Manjul loses his job at a media house owned by a corporate honcho who is close to the ruling party's heart.
This is not the first time that an artist has been reprimanded, especially by the current intolerant government, and the creative work denounced. Despite this tomfoolery of those in power suffering from alethophobia, cartoons remain the indomitable medium for exposing what is dishonest and despicable in the system. Every time India, or any country around the globe, has faced socio-politico-economic crisis, creative minds have worked relentlessly to bring the truth out in the public. This time too, the lies have been exposed.
Cartoons by national as well as local artists have brought much comic relief in this time of the Covid-19 pandemic. The caricatures made deeper impact than words and statistics. But the pictorial representations of people's angst and the lacunae in the system are more than humour.
"Editorial cartooning is not just about humour or comic. It's about burning issues, serious opinion and hard-hitting messages also. Yes, most of the times cartoonists rely on humour vehicle to drive a piece of opinion," explains editorial cartoonist Satish Acharya.
"A cartoonist's job is to question the government policies and governance without fear or favour. The political party occupying the chair doesn't matter to cartoonists. In a healthy democracy this should be the role of responsible citizens too. They need to question the government and governance. This way, a cartoonist becomes the voice of people," he adds.
A series of cartoons created by Acharya since 2020 has exposed the current government's failure to tackle the pandemic. A latest cartoon, created in the backdrop of shortage of oxygen and hospital beds for Covid-19 patients, shows a diminutive man asking the government for help until he drops dead. The government appears, of course, from a sewage hole holding a placard that reads, "MODI GOVT CONTROLLED SECOND WAVE IN A VERY SHORT TIME!"
Another cartoon shows the parroting members of the government chanting "sab changa si (all is well)" while the television anchor appears as the moderator of the chorus. This was when the country was witnessing deaths of migrant workers and a total collapse of the healthcare system.
Local satire & meme mantra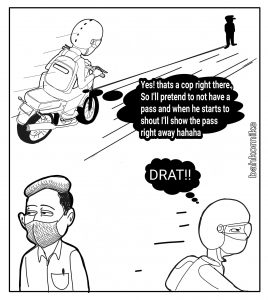 Many local artists have also taken up their paint brushes to deride the system. For instance, a cartoon by Kenneth Thangkhiew, aka Bah Komiks, shows politicians (an image that looks similar to Chief Minister Conrad Sangma) "DODGING AND STOPPING CORONA BULLETS LIKE THE MATRIX DURING ELECTIONS". This was during Sangma's campaigns in Garo Hills before the GHADC election. The message in the cartoon went beyond the state borders where politicians, including the Prime Minister himself, ignored physical distancing to pull crowd in hundreds and thousands during canvassing before the Assembly elections in five states.
"They are very much a powerful tool of expression," says Kenneth about cartoons as a medium of expression.
Though cartoons remain intellectually and creatively superior, memes have also played an important role during the pandemic. In fact, the quality and content of memes on social media have improved to a great extent in the last one year.
"In this culture where everything, from politics to entertainment, is fettered, memes smack. I believe this new form of humour has allowed reach to a wider range of audience connected through a device. This has indeed helped a lot of people escape into a reality that morphs into positive thinking but also that depends on individuals and how they deconstruct the visuals," says young illustrator Clyde Herschel Thangkhiew.
Several memes have been circulating on social media after actor Rajinikanth took the vaccine dose. There were memes about Finance Minister Nirmala Sitharaman announcing slash in GST on equipment and medicine to treat Covid-19. One says, "Covid cases are reducing, Madam Finance Minister Removed GST on Covid Drugs. When Covid Cases were Peak Madam was busy."
Another meme in Bengali shows the images of Narendra Modi and senior journalist Ravish Kumar and the following sentences read (translated), "Modi does not fear war because soldiers have to fight the battle. Modi fears press conferences because he has to be answerable."
Clyde believes that memes are steps ahead of cartoons when it comes to online cultural impact. They are "ever-growing and there is no stopping", he says.
But editorial cartoonists are hardcore journalists, asserts Acharya, adding that memes only intend to entertain.
Both memes and cartoons have not only piqued the interest of the public in various social and political topics but have also given the golden opportunity to the State to introspect (which the authorities missed or overlooked).
"I believe that everyone knows what is wrong and what is right. But many a time, either because we are too busy with other things in life or because of self-interest, we tend to silence our conscience. Cartoons and memes remind us about that part that has become silent in a way which is quite accessible. I believe that reading is the best way to rationalise the world and keep our conscience alive. But not everyone has the time or the stamina to spend a lot of hours on reading. Many still because of social circumstances are unable to do so. For all such people and even for those who read, cartoons and cleverly done memes are a good substitute. By revealing what is hidden or obscured it makes one pause, think and sometimes that may be enough for the conscience to emerge from its dormancy," says Bhogtoram Mawroh, a city-based professor and cartoonist.
"For those who may think that cartoons and memes do not hold any power, the example of Charlie Hebdo (drawing of Prophet Mohammed) and the socio-political repercussions (attack on the publication and the subsequent harsh policies targeting Muslims in France) are very relevant," he adds.
For Mawroh, the message is more important than the visual finesse and once that goal is achieved, both cartoon and meme can be considered as strong tools playing a social role.
Political heat
A cartoonist's imagination can always lead him or her to trouble, like in the case of Manjul. For an established artist, the heat from the government becomes tolerable but for a budding cartoonist, it becomes overwhelming. The State's high-handedness often prevails over creativity and an individual is forced to yield to pressure.
"Though most of the cartoonists take up cartooning driven by their passion for this art form, at the end of the day, editorial cartooning is a profession to earn their bread and butter. When governments snatch jobs from cartoonists, put hurdles in their professional journey, it definitely becomes difficult. Editors, newspaper owners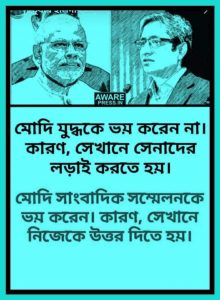 are under pressure to drop cartoon columns and very few editors have the spine to do justice to their sacrosanct profession. Social media and cartoon lovers on social media are a big help. They support cartoonists in many ways," says Acharya.
Talking about threats from the State, the acclaimed cartoonist says this has become a "part and parcel" of any cartoonist's life in the last few years. "I have been facing this regularly. Now, it doesn't affect me in any way. I ignore them and focus on my next cartoon," he adds.
Every creation criticising the system makes Kenneth apprehensive. "But at the end of the day, it's just satire. I do it with the faith that people out there are broad-minded and can take everything with a pinch of salt," says the young cartoonist, who has many followers on social media.
Thinking change
A work of art is always revolutionary, defying the system and compelling the robotic public to think. Visuals, unlike words, can be interpreted in any language and this makes them more powerful, believes local artist Rahul Surong.
But at the end, every creation has to serve a purpose, says Avner Pariat, a city-based social activist. The onus is as much on the creator as it is on the public. The action should have a suitable reaction to make the cycle complete.
"Memes and awareness tools should not be vents of frustration for the creator and the viewer, they should lead somewhere, inspire people to want change. If not, then it becomes purposeless. Many are happy to share memes (on social media) but how many are ready to fight for that cause," says Pariat.
~ Team Sunday Monitor
(All works of art have been sourced from various social media platforms)