Headlines
Sunday Monitor
Long wait for development
Road, school on the wish list of an obscure hamlet in West Khasi Hills, writes PHILIP MARWEIN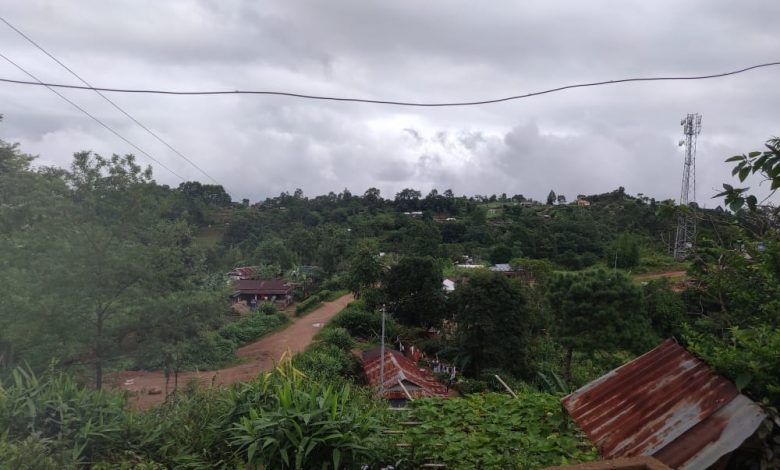 For about five decades, Tynrong Mawsaw, a remote hamlet in West Khasi Hills, was neglected by the government. Though the village has benefitted from a few welfare and development schemes recently, it still lacks infrastructural development.
The village, situated amid scenic green hills, is about 33 km west of Nongstoin, the district headquarters. It was set up in 1970 under Nonglang Sirdarship. Among the first settlers of the village were Hin Marthong, In Dkhar, Cyril Kharmaw, Phinian Thongni, Brigida Syiemlieh, Brialla Sangriang and Rosina Dkhar, who migrated to this hamlet from the old villages of Kharew, Phodtdei, Pawphlang and Siejiong of Elaka Maharam and Nobosohphoh Syiemships in the east.
Tynrong Mawsaw has 52 households with a population of 334 (179 males and 165 females). About 47 families are below poverty line. Despite the economic challenges, the literacy rate is 100%. Till date, the hamlet has produced two graduates, a post graduate and an engineer.
The landlessness here is not so pronounced as in most of the villages in Meghalaya. The primary source of livelihood is agriculture and allied activities. Some households rely on rental lands for cultivation of crops, which include rice, ginger and broomsticks. Villagers also rear pigs, cows and chicken for income. Small-scale fishery and apiculture are becoming popular among the residents of Tynrong Mawsaw.
Timber and charcoal have also become a source of sustenance for many. This, however, has led to environmental degradation. The rampant felling of trees in forests covering the adjacent hills, ravines and valleys have led to barrenness. Though many landowners have tried to rejuvenate the lost forest, the past greenery is yet to be restored.
According to headman Tarsis Lyngkhoi and secretary of the village Kohelet Dkhar, no government official has ever visited this hamlet. Even public representatives like the MPs, MLAs and MDCs have neglected it and requests for road connectivity, educational and healthcare facilities have fallen on deaf ears.
It was only recently that the government has provided electricity, drinking water, assistance to school building repairs and MGNREG schemes. Public representatives have doled out nominal financial assistance but denied the most vital road connectivity. The government has provided PDS items and this has come as a great relief to the poor families, especially during the Covid-19 pandemic.
Many labourers and petty traders from the village who supplemented their paltry income by working and trading outside their village are jobless now because of the pandemic.
The village dorbar members told this reporter that the need of the hour is a 3-km blacktopped road extending from a nearby village, Mawsyrpat, an RCC school building, construction of a school playground and a community hall. At present, there is only one lower primary school run by the Catholic mission in the hamlet and an Anganwadi worker and ASHA worker.
The drudgery of daily life has not lessened the spirit of the villagers, who live like one family and always help each other in times of crises. People here are hard-working, god-fearing, honest and cooperative. They are socially aware and instances of broken families or criminal activities are rare. The hamlet also has abundant natural resources. All it requires is development for better living conditions.