Feature
Maintain your makeup even in humidity & dust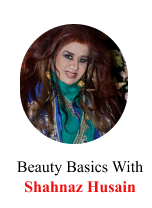 Seasons change and so should your makeup routine. Applying makeup, in general, can be difficult. But applying it on a sweltering hot day is a real challenge. The toughest job in summer is to keep your makeup intact. With the sun blazing right upon us, your look will have to stand up to high temperatures.
While we don't have any control over the weather, we can definitely make some significant changes in our makeup routine to adjust according to the season to prevent makeup from melting off into nothingness.
The golden rule for summer makeup is "soft, delicate and very sparing". Water-based and powder make-up items are better during summer. Waterproof make-up cosmetics are also available. For example, waterproof mascaras and eyeliners will prevent eye makeup from running during the hot and humid season.
Waterproof or water-resistant lip colours and lip liners are also available. Or, go for matte (non-shiny) lipstick and add just a dab of gloss in the centre for a delicious pout.
Always begin with a clean face: Cleansing the skin with plenty of cool water before make-up is most important. Use your face cleanser to get rid of all the excess oil and refresh your skin. After cleansing, use chilled rose water to tone and cool the skin. This is not only refreshing but also helps to close the pores. Dip cotton wool pads in it and wipe the skin. Also, pat briskly on the skin to stimulate circulation and add a glow. If the skin is oily, apply an astringent lotion, using cotton wool.
Blotting paper: Blotting papers can be your best friend if you tend to sweat on the face. Keep blotting paper handy to slick off any excess oil over the face or T-zone and be ready for touch-ups. They are great at absorbing shine, oil, and sweat and keeping your makeup looking great. Apply a loose powder in key areas where makeup tends to disappear first, such as around the nostrils, T-zone, and under the eyes. For extra security, use a finishing spray.
The fewer products you use, the better your makeup will stay on throughout the day, keeping it easier to maintain in hot weather.
Make sure your makeup is minimal and lightweight to keep up with the easy breezy vibe of the summer season. Avoid rich moisturisers, heavy concealers and foundations that would easily melt off and opt for a lighter formula that contains sunscreen. Your skin will feel less sticky and be able to breathe more easily if you wear less makeup.
Use products that are multi-functional and works as a moisturiser, SPF and foundation all in one. Make sure the SPF is above 30 and has a broad spectrum.
Go for waterproof mascara: Use mascara wisely. First, swipe a few coats of non-waterproof mascara. Then a coat or two of waterproof mascara to save yourself from the embarrassment and sticks to your eyelids even on a hot and sweaty day. This way, there won't be any smudges on top and it will be easy to clean the makeup off your lashes when you get back home.
Invest in a good primer: Waterproof primer is the most ideal in the hot summer season. Look for a primer that hydrates the face and helps cool down the skin. Use one which has hyaluronic acid to soften lines and blur imperfections. it can help you stay cool. The less you sweat, the less damage is done to your makeup. You can also try adding a splash of a naturally-cooling essential oil, like peppermint, to keep your face cool. Just make sure to dilute any essential oil you use with a carrier oil, like olive oil, before applying it to your face.
Tips to make your make-up last longer in summer: Use waterproof make-up in summer to cope with perspiration. Wrap an ice cube in a clean cloth and wipe the face with it, just for a few seconds. This helps to close the pores.
For oily skin, apply astringent lotion with cotton wool, to close pores and reduce oiliness. After a few minutes, apply a water-based foundation, blending with a damp sponge for a smooth finish. Add a drop or two of water, before applying, to provide a lighter coverage. Then apply powder to 'set' the foundation.
When you apply powder, press the powder all over the face and neck, with a slightly damp sponge. This helps it to set and last longer.
Use powder eye shadows and powder blush-on.
If you use kajal, after applying it on the lower lid, just below the eyelashes, apply a line of grey or brown eyeshadow over it. This prevents smudging and helps makeup last longer.
Blot the makeup with a tissue.
Applying foundation on the lips before helps lipstick last longer.