Headlines
Nation's happiness above individuals, says Himanta on border deal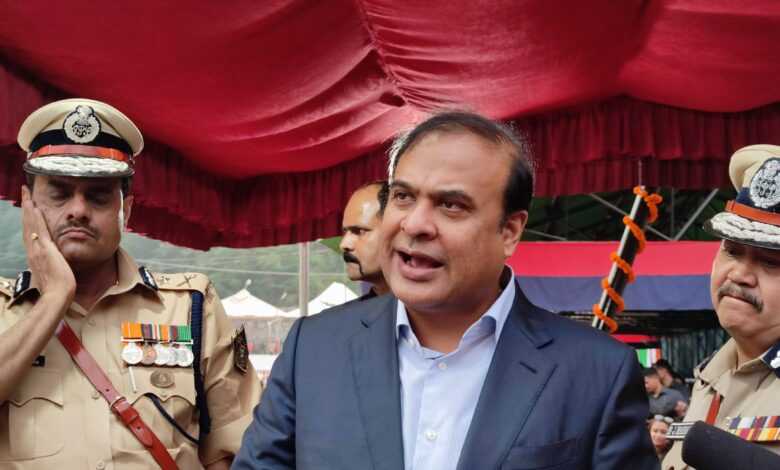 Shillong, April 6: Assam Chief Minister Himanta Biswa Sarma on Wednesday said the Country's happiness is above the unhappiness of individuals on the border deal signed between Assam and Meghalaya on March 29.
Speaking to reporters on Wednesday after the induction of new recruits from the 50th batch of NEPA in Ri Bhoi , the Assam chief minister said, "You cannot have happy out of every agreement but only thing is that the country should be happy. Always there will be individuals who will be unhappy but nation should be happy that should be our motto".
He was responding to a question on unhappiness of border residents on the decision of the two states.
He said the second phase of border talks for resolving the remaining six areas of difference will start in June-July.
"We hope to start discussion for the other six areas of difference also sometime around June and July," Sarma said.
He said that now the Survey of India has already started working on the six areas which ,have been resolved between the two states.
According to our MoU, Survey of India will put border pillar and thereafter the entire agreement will be formalised " Sarma said.
Regarding the opposition's demand to revisit the border agreement, the Assam chief minister however said the two states should not reopen the issue.
"Now that agreement has sealed and signed, there is a demand from Assam opposition also to revisit but I have answered in the Assembly that after, all these are lands belonging to India and as a brother and a sister, we have signed an agreement and we have come to a closure so far as that six sites are concerned so we should not reopen the issue," he said.
When asked whether the border residents are politicising the issue, Sarma said., "This is the duty of the Meghalaya chief minister to handle any congratulations or criticisms but so far as Assam is concerned we have replied to the criticism in Assembly and by and large Assam civil societies are backing the government completely."
Second phase to be difficult
Sarma admitted that the second phase of border talks will be very tough.
"The second phase is most complicated and most contested areas as it has Langpih, Block I & II," he said.
He said a goodwill has been created between Assam and Meghalaya.
"Now at least both the governments and citizens of Assam and Meghalaya are not talking in terms of conflict as they are talking in terms of resolution of conflict so banking on whatever we have in the first phase , we will start dialogue for the second phase and I am confident that at some point of time we wil have resolution on the six also but how and when it will end it is difficult to predict right now," Sarma said