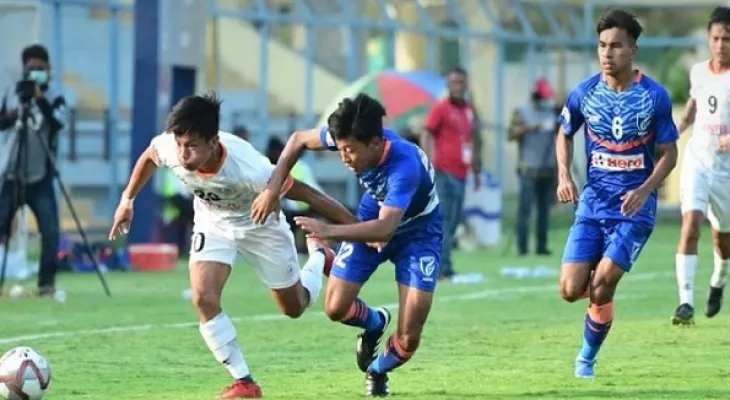 Naihati (West Bengal), Mar 28 (UNI): NEROCA FC snatched a 1-0 win against Indian Arrows in the Hero I-League 2021/22 play here at Naihati Stadium on Monday.
The winning goal came for NEROCA FC via a owned goal from Brijesh Giri in the 73rd minute and they managed to grab all three points. The match started with Indian Arrows keeping possession and searching for long balls from their own half.
The game remained constrained to the middle of the ground in the early minutes. In the 6th minute, a counter-attacking move allowed Suhail Ahmad Bhat to make a dangerous cross inside the box, but he could not find his man. Both sides made some forays but nothing fruitful in the first half. Indian Arrows showcased attacking intent as soon as the second half started.
In the 50th minute, the game spilled inside the box, with Suhail Bhat, Parthib Gogoi and Vibin Mohanan looking to get away with a shot on target. But NEROCA defensive troops stayed alert and cleared the danger. In the 55th minute, Sailo took a left-footed shot on target, forcing the NEROCA goalkeeper to make yet another save. With his impeccable dribbling skills, Sailo continued to pose a threat to NEROCA as the game entered the one-hour mark. A couple of minutes later, Khaiminthang Lhungdim scripted a brilliant move inside the Indian Arrows' box, but it was well defended by the young defensive forces.
In the 73rd minute, Jiteshwor sent in a chipped pass inside the box which was punched away by the Indian Arrows goalkeeper Zahid Bukhari. But he could only find Vicky Meitei who got a header on the ball, forcing Raj Basfore to come to defensive duties. But the ball struck Brijesh Giri's body and went inside the nets, giving NEROCA FC a 1-0 lead via an own goal.