Headlines
Non-bailable warrant of arrest issued against Bernard
Shillong, July 25: A court in Tura on Monday evening issued a non-bailable warrant of arrest against BJP MDC Bernard N. Marak @Rimpu, who is accused of running a brothel in his farm house in Tura, West Garo Hills.
This was informed by West Garo Hills SP VS Rathore, who said it is a standing warrant issued by the Court of Chief Judicial Magistrate, Tura.
Police had on July 22 raided the farm house of Bernard and arrested 73 persons, including minors besides seizing liquor, vehicles and other documents.
Later on July 23, a case was registered in Tura Women PS  u/s 3/4/5/6/7 of Immoral Trafficking (Prevention) Act, 1956.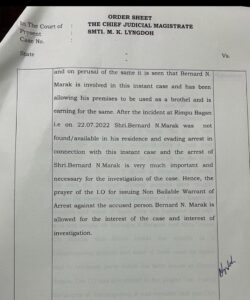 Police wanted the accused to surender before Sadar Police Station here but Bernard claimed that he wanted to be away from the police as he feared that he will be gunned down.