National
PM lays foundation stone for Ganga Expressway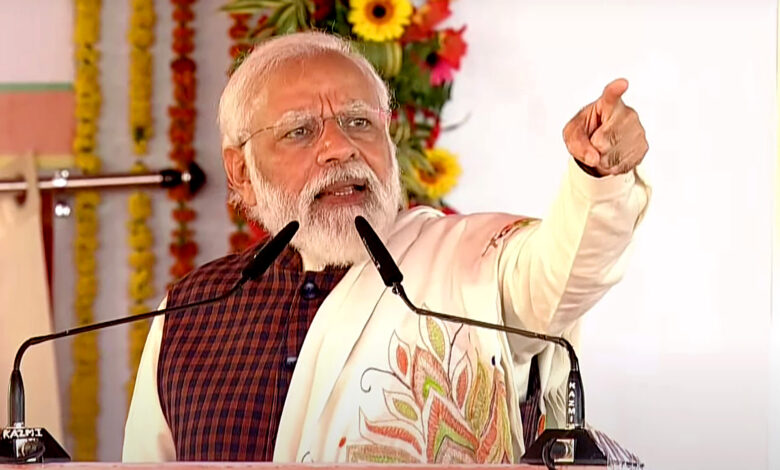 Shahjahanpur, Dec 18 (UNI): Prime Minister Narendra Modi on Saturday laid the foundation stone of the 594-km-long Ganga Expressway here and said it would further develop Uttar Pradesh even as he took a jibe at opposition parties.
Addressing a public gathering, the Prime Minister said the "double engine" government of the BJP in power both at the Centre and the state had improved law and order in the sprawling state.
He utilised the occasion to attack the opposition but without naming any party.
The opposition, he said, had problems with the redevelopment of the Kashi Vishwanath Dham, the Ram temple in Ayodhya, action against terrorists and Indian vaccines against Covid-19.
"Some political parties have problems with both the heritage and development of the country. They have problems with development because people's dependence on them is decreasing," he said.
Talking about the Expressway, which will link Meerut in Uttar Pradesh's west with Prayagraj in the east, Modi said, "It is a historic day for Shahjahanpur. The work of the biggest Expressway of UP, Ganga Expressway, is starting today. It will open the new gates of development of UP."
He said the Rs 36,000 crore project will bring new industry and new opportunities to Uttar Pradesh.
"UP is as big in size as in population. To run a state so big, the work is being done by the double engine government. The day is not far when UP will be the most advanced state in terms of infrastructure," he said to cheers.
"This Expressway will reduce time taken to travel to Bihar. Industry will come along the Expressway. It will help in increasing farmers' income… Today, UP's money is being used for UP's development."
The Prime Minister said the priority is to strengthen weaker sections and mentioned PM Kisan Nidhi and PM Awas Yojana.
He said 30 lakh poor have got houses under PM Awas scheme. "For those who are left out, Modi and (Uttar Pradesh Chief Minister Adityanath) Yogi are working day and night to ensure benefit reaches all."