Headlines
Rymbui to continue as HM till replacement
CM still examining resignation offer letter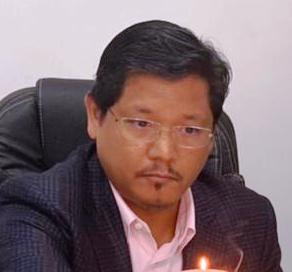 Shillong, Aug 16: Lahkmen Rymbui will continue as Home Minister till Chief Minister Conrad Sangma finds a replacement.
Though media reports on Sunday said that the resignation has been accepted, the chief minister said he is yet to take any decision on the request made by the home minister  to relieve him from the post.
"I have received the letter from the home minister but I have not yet made a decision. I will be examining the matter and will take a decision at an appropriate time," Sangma told reporters on Monday.
Sangma said Rymbui, who after discussion with his party colleagues had submitted a letter, not resignation but a request to relieve him from the home portfolio was made but he will be continuing as home minister.
Rymbui's decision to quit as home minister was after demand from several quarters that he should take moral responsibility for the killing of  former HNLC leader Cherishtarfield Thangkhiew on August 13.
"As I said as chief minister as a government I have to look at all the aspects of the state's security and overall situation. Therefore, keeping all those aspects in mind I am examining the letter and will take a decision at an appropriate time," he said.