State
Social activists demand transparency, CAG audit in PHE
Mystery of hundreds of blue pipes baffles CSWO & TUR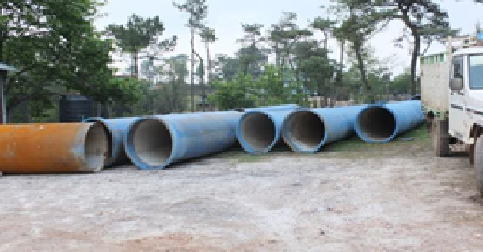 Shillong, Oct 4: Two city-based social organisations have raised concerns over the lack of transparency in the PHE Department and emphasised the need for auditing its expenditure.
In a statement issued on Monday, CSWO and Thma U Rangli Juki said, "PHE as department has been for too long a non-transparent department. It is high time that the department is audited by CAG and the citizens, for the wastage of public funds while, citizens face water crisis."
Social activists Agnes Kharshiing, Angela Rangad and Amita Sangma visited Mawphlang on October 1 to inspect the ste where a glitch had led to interruption in water supply to several city localities recently. They found that the breakdown was repaired.
The team's investigation revealed that water was flowing back from the second stage pumping house towards the dam.
"This is the second stage pumping house and water is extracted from here under JNNURM. We were told that the pumps that are installed in it cannot pump out all the water that is stored in it. The first stage is the tower and this is the second, and the pump(s) that are installed in it are very weak and points to unfruitful expenditure incurred by the department. According to experts, if at all the designs of the pumps were perfect even the booster pump house would not be required. All the water pumped from here would go directly to the treatment plant for treatment," the activists pointed out.
The fact finding by the team followed numerous complaints about water crisis and irregular supply.
Blue pipes everywhere
The team also found blue pipes procured under JNNURM dumped in Mawphlang PHE storage compound and also around the city. One such is in a forest in Lumpyngngad, Motinagar, and in the parking area nearby.
"For years there were hundreds of Blue JNNURM Pipes seen in the dump area of the PHE at Mawphlang and these were there for years… Earlier, people were confused on seeing many blue pipes being laid around, people were not clear where the water source is from and where the water is being provided. Funds were received from NEC and from international funders to JNNURM," statement said.
"We were also told that names of projects are changed to confuse the people. Initially, the Phase 1&2 was actually from the completed first tower and it had a temporary dam so that water can be extracted. 1&2 phase are old schemes and blue pipes are all from JNNURM scheme (Greater Shillong Water Supply Scheme is under JNNURM)," it added.
The activists demanded transparency in the PHE department's expenditure and said people have the right to know why the water crisis is persisting.