North East
TMC seeks directions of SC to hold fair civic poll in Tripura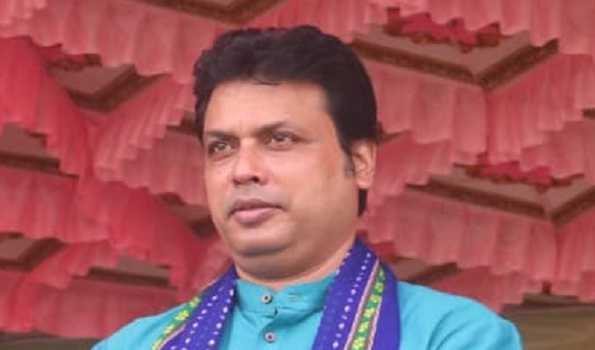 Agartala, Nov 22 (UNI): The All India Trinamool Congress National general secretary, Abhishek Banerjee, on Monday accused Tripura Chief Minister Biplab Kumar Deb of mobilising the anti-social elements against party supporters.
"Deb's goon repeatedly attacked Women Police Station in presence of hundreds of policemen, including senior officers, in the city at broad daylight but none was arrested yet, which shows how the government, administration and criminals are functioning in a coordinated manner in Tripura," Banerjee alleged.
"I made it clear to Biplab Deb that I will show him the ways of politics. You can do whatever you want. I have shame on your administration who made the supreme mockery of the Supreme Court's direction. We have deposited the evidence of each and every incident to Supreme Court and our petition will be heard on Tuesday. I have full faith and respect to judiciary and Biplab Deb will face the future," he added.
He urged people to come out from BJP fear and vote for a change.
Banerjee made a clarion call to all anti-BJP parties including CPI-M and Congress to join hands with TMC to evict BJP from power and said, "CPM and Congress condemned the incidents of Sunday but it is proved that they are not competent to pull down BJP from power. All of them come together to strengthen the hand of TMC".
Meanwhile, Trinamool Congress MP Derek O'Brien sought an appointment with Union Home Minister Amit Shah to apprise the latter on alleged attack by the BJP workers on its party workers and leaders, besides arrest of its youth wing chief Saayoni Ghosh, in Tripura ahead of the November 25 civic body polls.
"Mr Amit Shah Home Minister, Sir. Brutal attacks on TMC. Even members of media clobbered in Tripura. Unprecedented attacks. Arrests on trumped-up charges. Sixteen Trinamool MPs have reached Delhi. Sir, please do give us an appointment this morning. Patiently waiting," the TMC leader wrote in a tweet.