North East
Tripura Cabinet to be expanded next week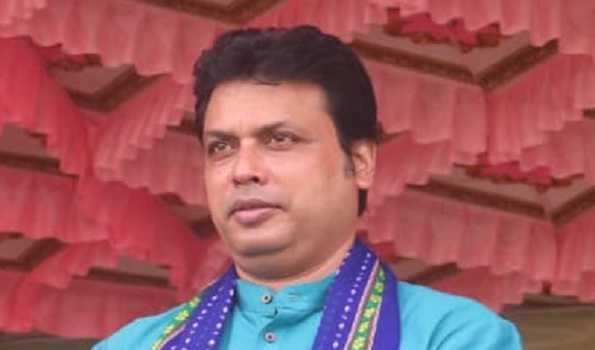 Agartala, August 28 (UNI): In the midst of dissidence and anti-incumbency against Chief Minister Biplab Kumar Deb three and half years after assuming power, Deb is reportedly going for expansion of his Cabinet by inducting three more ministers next week.
BJP sources confirmed that three ministers, including one from the scheduled caste community, would be inducted in the eight-member Cabinet, which has the provision of 12 members. However, sources claimed that none of the dissident MLAs and the followers of Deb's contender Sudip Roybarman would be getting entry this time too.
There has been a rumour that the central BJP leadership would remove Deb from the post to manage the dissident MLAs and arrest the growth of Trinamool Congress and anti-incumbency but no such indication is there so far. Deb will remain as chief minister for the time being, a senior party functionary said here on Saturday.
"However, in the Cabinet reshuffle, two close MLAs of Deputy Chief Minister Jishnu Dev Varma and Sudip Roybarman, who have recently joined in CM's team, will be inducted in the ministry to send a message to the dissident MLAs that BJP central leadership is still relying on Biplab Deb," he added.
Debunking claims that Roybarman and six MLAs have been in touch with Trinamool Congress, Roybarman said, "These all are rumours by those who want to fish in troubled water. I am with BJP and there is no chance of my defection. I shall abide by the decision of the Central BJP leadership."
He added, "The central leadership is closely monitoring the situation of the state and I shall not compromise even to an extent where communist will get an iota of benefit. We work for the people of Tripura and shall continue to do the best."