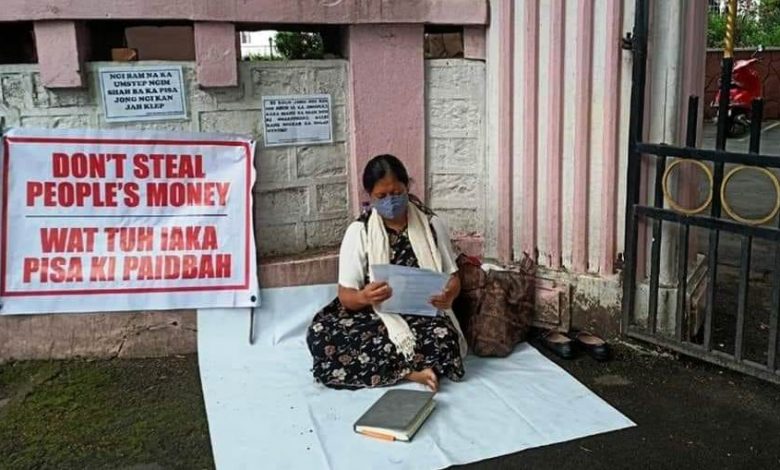 Shillong, August 8: Activist Angela Rangad has written to the principal secretary of the Department of Labour seeking follow-up reports on payment of income support to beneficiaries.
Referring to the meeting held on July 28 after Rangad's protest outside the Main Secretariat, the TUR member sought the report on the number of transfers of income support under CRAWL to building and other construction workers (BOCW) in the past week.
Rangad also wanted to know the number of phone calls received on the helplines of the department since June 28 and the status of the complaints. "We would also like to place on record that there appears to be issues with the phone numbers, where people have informed us that many times the mobile no. is switched off and no one picks up the calls on the landline. I had informed you of this earlier too and hope this will be rectified," the letter read.
She sought reports from the banks on the status of the transfers of the income support.
Referring to a ministry letter to the Meghalaya chief secretary on July 14, TUR reminded the government about its suggestion to waive the renewal fee of Rs 10 for BOCW membership so that more people can be covered under the income support announced last year.
In the July 14 letter, the ministry had asked states to implement the Mission Mode Project to include all workers.
"This support will go a long way in helping them not only (to) ensure nutrition for their families but also that they keep their children in school especially now that results have been announced and there are financial requirements for admissions etc," Rangad said.
Besides, TUR wants to know the status on the physical verification at district level of 32,283 persons who had registered for the scheme but did not get the money and the status of the online portal on BOCW and CRAWL.
At the end, TUR reminded the government's commitment to complete all transfers by August 15.