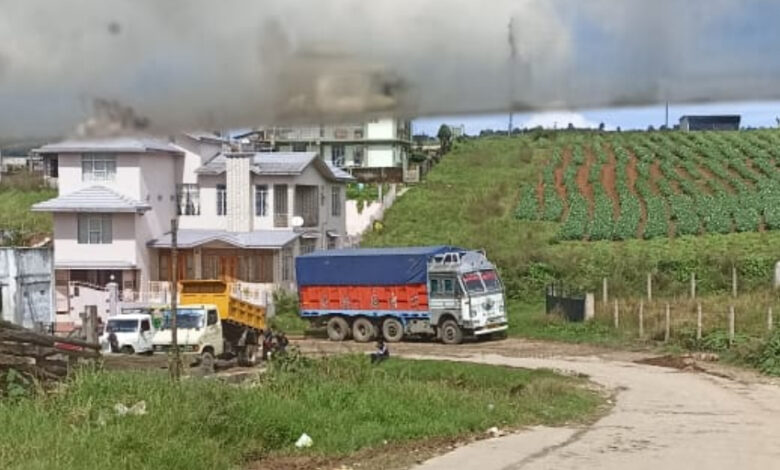 Shillong, Oct 18: Two coal-laden trucks went missing from the city on Monday while police were guarding them.
Social activists Agnes Kharshiing and Amita Sangma filed an FIR in this regard.
In the FIR, Agnes said Amita, after getting inputs from some people, informed her on October 17 about two trucks (AS01-EC 0796) and AS01-GC 5019)  parked at Wahsnait , Laitkor, East Khasi Hills and acidic water was oozing out from them.
Later, after Madanryting police station was informed, police personnel and the activists  visited the area. As the drivers had fled the place, police personnel have been deputed to guard the trucks (in pictures) while waiting for the cranes to pull them.
The activists also saw the acid leakage from the trucks when they visited the site.
Later in the evening, the activists met the OC of Madanryting and they had been told that the police were still waiting for the cranes to pull the coal trucks to the police station.
"After we went home, a person (Nik/Nick Nongkhlaw) called the number of Agnes Kharshiing 9436118164 from number 6009432916 and since the network was not clear the phone was disconnected. The person also called Amita Sangma and he (Nik/Nick Nongkhlaw) claimed that he had given money to the coal truck owners . He also told her he wanted her to release the truck of his friend. He also started the conversation by saying he knows her son and this is a sort of threat on the undersigned witness (Amita Sangma) and puts in danger of anyone exposing the illegal activities in the state and Amita immediately informed me and I informed the OC of Madanryting", the FIR said.
According to the FIR, the activists were  informed that the two trucks have gone missing.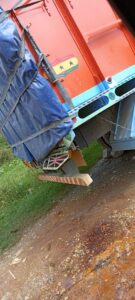 "In this regard, we urge that the name of the person having number 6009432916, be called for inquiry and his call details be called from the network of this number 6009432916 and to investigate whom he connected with and who has helped for the disappearance of the coal trucks and who has groomed him to call up Agnes Kharshiing and Amita Sangma, and mentioning to Amita Sangma, 'nga ithuh khun phi', putting a direct threat on lives of activists and anyone reporting on illegal coal", the FIR said.
The activists wanted the police to investigate who from the police have been helping Nick  to take away the trucks under the nose of the police.
They also asked the police to register the case with relevant sections as per law, and also for violation of the Illegal coal transportation.