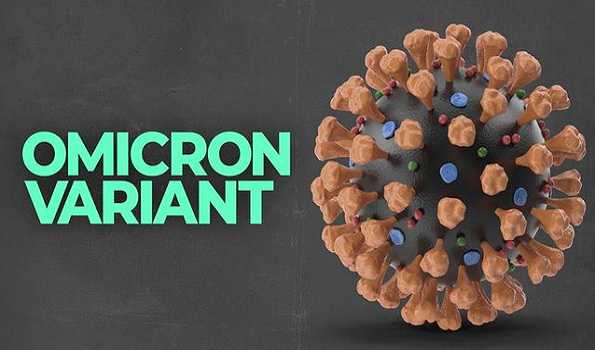 New Delhi, Dec 2 (UNI): Two individuals in India have been detected with the Omicron variant of Covid-19 in Karnataka, Union Health Ministry informed in a press briefing on Thursday.
The individual, both male, aged 66 and 46 have recently travelled to South Africa where the majority of the cases for the new variant have been reported, sources said.
However, the symptoms of both the cases are mild in nature so far, it added.
The Union Health Ministry further informed that all primary, secondary and tertiary contacts of the reported Omicron cases are being traced.
"The network of INSACOG labs are analysing the samples of the travellers from 'at-risk' countries who are found positive with the Covid-19. These two cases were found carrying Omicron variant during the genome sequencing of their samples," National Centre for Disease Control (NCDC) Director Sujit K Singh said while interacting with media.
Meanwhile, the Bruhat Bengaluru Mahanagara Palike (BBMP) informed via a statement that the 66-year-old man who have been confirmed infected via the Omicron was fully vaccinated.
The municipal body of Bengaluru also said that contacts of the 44-year-old case have tested positive and the samples have been sent for genome sequencing.
"One of the two patients is a 66-year-old male while the other is a 46-year-old male. The former had returned from South Africa and was fully vaccinated," according to BBMP.
"Three primary contacts and two secondary contacts of the 46-year-old male tested positive between 22nd and 25th November. All are isolated. Their samples have been sent for genome sequencing, results are awaited," it informed.
Meanwhile, the Union Health Ministry maintained that the cases of Omicron, reported across 29 nations have been found exhibiting "mild symptoms".
The Union Ministry urged for greater caution and stated that there is no need for panic as long as rigorous public health measures are followed.
"29 countries have reported 273 cases of Omicron with the highest concentration in South Africa. However, all the cases are suffering from the mild nature of Covid-19 disease," Joint Health Secretary Luv Agarwal said.
Agarwal also said that testing and treatment protocols remain unchanged for Omicron.
"Masking, vaccination and rigorous public health measures are still effective against the new variant. Testing and treatment protocols remain unchanged for Omicron. Efficacy of vaccines against the new variant is being studied as more evidence emerges," he said.
However, the ministry still cautioned the public since the available evidence from the affected regions by Omicron suggest that the new variant could be the most transmissible variant of Coronavirus detected so far.
"According to genomic modelling, it is being said that Omicron could be 5 times more infectious than the original strain of SARS-CoV-2. More evidence is needed to ascertain transmissibility and severity of Omicron variant," said Agarwal citing observations from WHO.