Headlines
Wife of suicide victim denies foul play; open to probe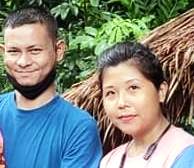 The death of MeECL engineer, Bob Marley Sangma (37) from Tura, has created sensation with his sister alleging foul play. However, his wife, Dokchi Marak believes that it was suicide and is open to probe. She replied to the queries of Meghalaya Monitor.     
MM: Your sister-in-law says the body of your husband was brought down without informing the police. Is it correct?
DM:  No it is not correct. The Tura PS was informed soon as possible. But since I was the first person who saw my husband hanging through the window as the door was locked from inside, I screamed out loud for help. On hearing my scream, my tenants and neighbours rushed and one of my tenants broke into the room by smashing the window glass. I also rushed after the door was opened. Our first instinct was to bring down my husband thinking he might still be alive. But it was too late. Soon, the police and also my husband's relatives were informed.
MM: You were out on duty. Your husband was supposed to go out for work after you served breakfast. Did you meet him before you went out for work?
DM: Yes as usual I went out for work around 10 am on June 8. My husband was still in bed when I left for work. But I left breakfast for him on the table.
MM: He was staying in a separate room and your sister-in-law said your mother, you and your husband were not in good terms.
DM: My husband had a drinking problem from the time he was a bachelor. It was only due to his drinking habit, my mother at times had issues. But at times when my husband don't drink, my mother never had any problem with his son-in-law. There is a room on the ground floor which was meant to give on rent. But my husband made that room as rest room-cum home-office room.
MM:  There are also allegations that the parents of your husband were not informed about his death in time?
DM: No, this is not correct. They were informed through my husband's eldest aunty who stays in Tura and eldest brother who is a doctor at Tura Civil Hospital.
MM: Is it a fact that the body was buried in a hurry?
DM: No it is not true. As per Garo custom, the funeral was conducted the next day with two families present. Due to pandemic, we followed Covid protocol as service had to be over by 2 pm followed by burial by 3 pm.
MM: Do you still believe he committed suicide and what are the reasons?
DM: Yes, I believe because whenever he drinks and gets drunk, numerous times he mentioned of committing suicide..and this fact was made known to some of his relatives also.
MM: Are you open for an inquiry since the husband's relatives don't believe that it is suicide?
DM: Yes I am. Why should I be afraid as I have done nothing wrong.
MM:  Any other observations you want to make?
DM: I request my sister-in-law and other relatives not to spread any malicious and false information, as I have had a big tragedy and I have two kids (5-year old & 2.6-year old) to look after. I urge not to mentally disturb me anymore.