National
64% polling in Kolkata civic polls
Opposition launch street protests against 'malpractices'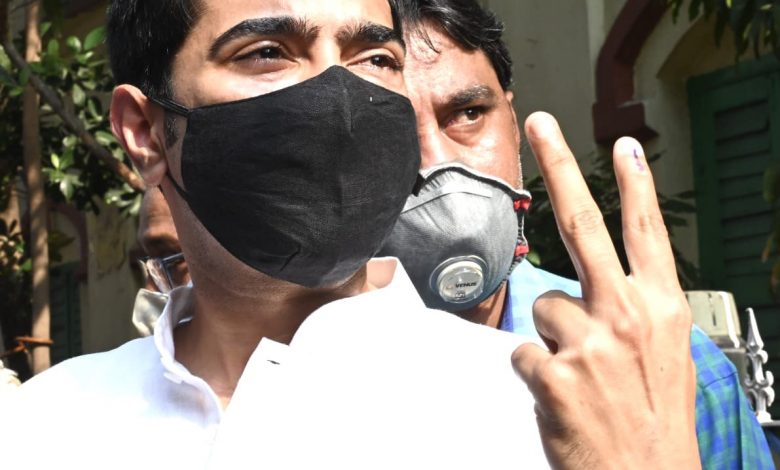 Kolkata, Dec 19 (UNI): Amid reports of sporadic violence and allegations of rampant malpractices and intimidation by the opposition parties, an estimated 64% polling was recorded till the scheduled closing time 5 pm in the Kolkata Municipal Corporation (KMC) election on Sunday.
Seventy-two people were arrested in poll-related violence, which was reported from across the city, said Joint Commissioner of Kolkata Police (Headquarters), Subhankar Sinha Sarkar.
Two persons were injured after unidentified miscreants threw two crude bombs outside Taki High School Booth in Central Kolkata's Sealdah area. Both Trinamool and Congress held each other responsible for the incident.
In ward 22 of north Kolkata, goons said to have been backed by the Trinamool, allegedly attacked BJP candidate and former city deputy mayor Meena Devi Purohit. In central Kolkata, Congress candidate Santosh Pathak complained that the Trinamool sent fake voters to polling booths.
The CPI-M alleged that their polling agents were driven out and candidates prevented from entering a large number of booths and set up a road block at Bagha Jatin crossing on the city's southern outskirts.
The BJP, CPI(M) and Congress held the state government and Kolkata police responsible for their failure to prevent such incidents and accused them of remaining mute spectators.
After receiving various complaints, the State Election Commission directed the returning officer to take action over the incidents in ward 7 and ward 22 where BJP candidates Purohit and Brjaesh Jha lodged complaints claiming they were beaten up.
Meanwhile, State BJP president Sukanta Majumdar announced that the party workers have launched protests across all districts.
State BJP leaders, headed by Sisir Bajoria, led a party delegation to the state election commission office with a series of complaints alleging the ruling Trinamool Congress looted the vote with the help of the government machinery.
The Trinamool Congress has fielded candidates in all the 144 wards of KMC, while the BJP is contesting in 142 wards. The CPI-M led Left Front is in the fray in 129 wards, and the Congress in 121. There are 378 independent nominees.
AITC national general secretary and MP Abhishek Banerjee on Sunday said stern action will be taken within 24 hours if it is proven that any party worker was involved in incidents of violence related to the Kolkata Municipal Corporation election.
Taking to his tweeter handle, Banerjee said, "If it is proven that any AITC worker has been involved in incidents of violence, stern action will be taken against them within 24 hours."
"We have the utmost respect for democracy and will always preserve the sanctity of the same," he said as voting came to an end in the KMC polls, with the opposition parties launching street protests after charging the ruling Trinamool Congress of turning the democratic exercise into a farce through booth rigging, violence and intimidation.