BOOK REVIEW
The spring trickles back into the rock/In chains of speech that whirl and warble. ~ Osip Mandelstam
An obscure past, a bigot system, aberrations of democracy, the depraved media and a complicated mind — all shape Osip's many lives in CP Surendran's latest novel about a youth on the cusp of adulthood.
Osip Bala Krishnan, alias OB to his dear ones, shares his name with Russian poet Osip Mandelstam, who was born in Warsaw and later exiled in Siberia during the Stalin regime. But OB's connection with Communist Russia goes beyond the poet and often fades in hallucinations.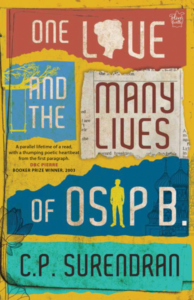 A teenager in a boarding school in Kasauli, OB's amorous relationship with his English teacher (Elizabeth Hill) takes him through a whirlwind tour of life and dumps him into the detritus of reality. A way out is possible but there are conditions which would decide "the worth of my breath, answered the challenge of a word, my name".
OB's family consists of a grandfather who dwells in his phantasmagorical world and a grouch of a grandmother, who is way younger than her husband. An orphan, the protagonist in Surendran's One Love and the Many Lives of Osip B. was raised by a prominent Communist leader in Thrissur, Kerala — "a state as imaginary as it is real, where the Revolution was always about to happen, but did not, at the last minute, so it can happen — again". OB shares with him a non-genetic mental disorder, folie a famille, that causes hallucinations. A visit to Russia has left a debilitating effect on the mental health of the 96-year-old Communist leader.
Away from home, OB's comrade is Anand, his roommate, and later, an associate in a petty crime. Anand is a godman on the make and knows the business of religion.
OB's elderly friend in Delhi, an iconoclastic poet and author Arjun Bedi, is a father figure.
The news of Elizabeth's pregnancy and her disappearance thereafter push Osip to the brink. How far can Elizabeth — alias Ms Hill to OB and other students — go? To her country, London? The distraught lover can stoop to the grave to dig out a solution for his troubled mind and heart. Rejection does not stop him from pursuing what he thinks is his only honest possession. Kidnapping the corpse of a priest to extort money for visiting his elusive love seems to be an easy solution. With Anand, and a fugitive named Idris, as companions, Osip commits the crime that eventually creates a distance between the two friends.
While Anand goes on his way in search of nirvana and a divine but fruitful life, Osip reaches Oxford in search of Elizabeth. In the process, he meets his grandfather's younger brother, who is also Elizabeth's former lover, and discovers the secret from Russia that the Communist leader has been hiding for years.
As Osip's story unfolds, Surendran — a poet, novelist, screenplay writer and columnist — reflects on the loosening socio-political fabric of the country where Idrises have to become Hindols to ensure security; where the Alok Jains run the show and the wily Anands (Aanand, the Godman) and Mr Dudanis squeeze into the system shamelessly and exist with honour and respect.
"We live without sensing the country beneath us," in Mandelstam's words.
The role of the media in all this and the nexus between religion and business are horrifying and can destabilise democracy. Osip, Idris and Arjun are only victims of the hypocrisy of time. "There is nothing as fit for survival as a man without pride," says Arjun.
Osip struggles to survive the degeneracy and hypocrisy. The challenge to be the man of the house complicates his existence. By 20, Osip is an old man, exiled in his world, more reclusive now that his love is no more.
Surendran's depiction of Osip's journey through tribulations and the noises of the time is intriguing and intimidating at the same time. The keen observations of the society around are bold. Even with layers of veils, the novel reveals it all without an attempt to hide the truth.
~ Sunday Monitor
Book: One Love and the Many Lives of Osip B.; Author: CP Surendran; Publisher: Niyogi Books; Pages: 369; Price: Rs 695