National
AAP landslide buries opposition in Punjab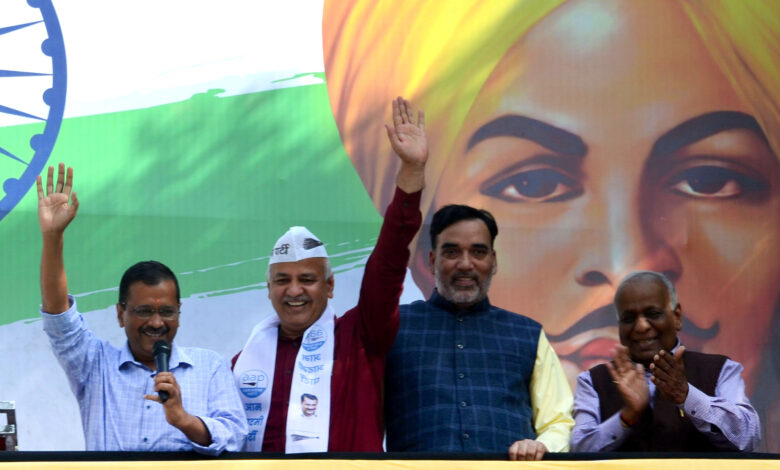 Chandigarh, Mar 10 (UNI): In an electoral outcome with national ramification, the Aam Aadmi Party (AAP) on Thursday stormed to power in Punjab with a landslide victory that punctured the entire opposition, inflicting humiliating defeats on the state's biggest political stalwarts.
Celebrations erupted at the AAP headquarters here and across the border state of Punjab as counting of the millions of votes polled in the February 20 assembly election showed the party inching towards winning an incredible 92 of the 117 seats, earning a two-third majority.
Incumbent Chief Minister Charanjit Singh Channi of the Congress lost to AAP opponents in both Chamkaur Sahib and Bhadaur. In the latter, he was defeated by Labh Singh, who comes from a poor family and works in a shop repairing mobile phones.
Veteran Akali Dal leader Parkash Singh Badal, who has been chief minister of Punjab four times, suffered a shock defeat in Lambi, his political hub. His son and Akali Dal stalwart Sukhbir Singh Badal lost in Jalalabad, while former Chief Minister Amarinder Singh lost to AAP in Patiala Urban.
One of the biggest upsets of the election came from Amritsar East where AAP activist Jiwan Jyoti Kaur defeated both Congress leader Navjot Singh Sidhu — who played a key role in ousting Congress Chief Minister Amrinder Singh just before the elections — as well as Akali leader Bikram Singh Majithia.
In contrast, AAP's Chief Ministerial candidate Bhagwant Singh Mann, now the AAP's lone Lok Sabha member, was declared elected form Dhuri in Sangrur district by more than 58,000 votes. The AAP announced that he will take oath of office from revolutionary Bhagat Singh's village, not at Raj Bhavan.
In New Delhi, AAP founder leader and Chief Minister Arvind Kejriwal called the victory in Punjab as the start of a "big revolution" which he said will go on to transform national politics. "We have to change the politics of the country," he told cheering crowds at the party headquarters.
"The time has come… The revolution which started in Delhi has spread to Punjab and will soon engulf the entire country… We will build a new India." Mann, who offered prayers at Gurudwara Mastuana Sahib in Sangrur, told a victory celebration in Punjab that all the stalwarts who had dominated the Punjab politics for decades had bitten the dust.
AAP candidates did admirably well across all three regions of Punjab, defeating some of the biggest names in the state with ease, indicating a bitter resentment against traditional politics.
Election Commission officials predicted that the AAP could end up winning as many as 92 seats, leaving a shrunken Congress with 16 seats, the Akali Dal with 6 and the BJP with 2 while the BSP got just one seat. Channi, Amarinder Singh and Siddhu all accepted defeat.
In Chandigarh, AAP spokesman Raghav Chadha said his party has not just won a state but emerged as a national force. "AAP will emerge as the national and natural replacement to Congress," he said.
He also said that Kejriwal's party will emerge as the main challenger to the BJP nationally.
Sidhu said he "humbly accepts" defeat and congratulated AAP. "The voice of the people is the voice of God …. Humbly accept the mandate of the people of Punjab …. Congratulations to AAP!!!"
Amarinder Singh congratulated the AAP and Bhagwant Singh Mann for the emphatic victory. He congratulated Punjabis for rising above caste, sectarian and communal considerations. Thursday's victory in Punjab was a sweet revenge for the AAP, which was confident of winning in 2017 but ended up with just 20 seats. The Congress won that elections.