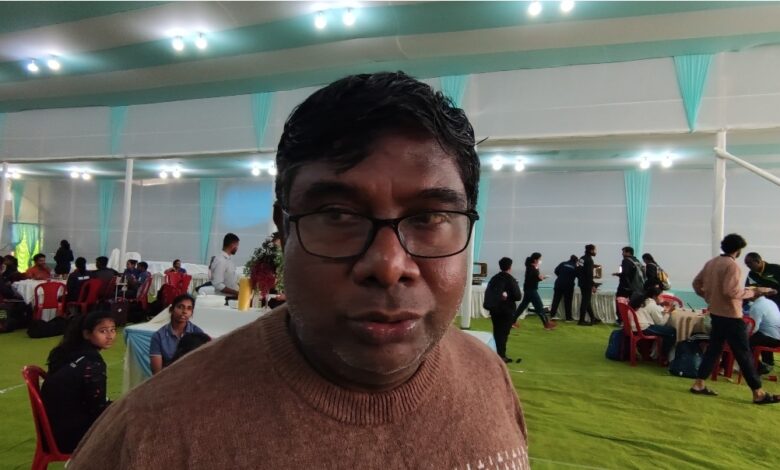 Shillong, April 18 : R Ramesh Babu, Coach, Tamizhaga Table Tennis Association, Tamil Nadu said on Monday that the male table tennis team members, who were injured in the road accident in Ri Bhoi, will not take part in the 83rd National Table Tennis Tournament but there will be participation of female players.
Deenadayalan Vishwa lost his life and three other players were injured in a road accident on April 17 in Ri Bhoi.
Expressing shock over the death of the 18-year-old Vishwa at NEHU, the venue of 83rd Senior Table Tennis Tournament, Babu ( in picture) said male players Kishore (30), Santhosh( 23) and Abhinash Prasanna (21) are still under treatment. There are minor injuries on the middle finger and shoulder of Prasanna.
Prayers for player 
One minute silence was observed for Vishwa during the inauguration of the tournament.
Chief Guest and Assembly Speaker Metbah Lyngdoh, guest of honour and Sports & Youth Affairs Minister Banteidor Lyngdoh and Meghalaya Table Tennis Association (MTTA) president RG Lyngdoh condoled the death of  the player.
Banteidor read out a condolence message on behalf of the state government for Vishwa's family. "His contributions will always be remembered and cherished. In this moment of grief, I with a heavy heart convey sincere and heartfelt condolences to the family," he said.
Expectations
RG Lyngdoh said he is looking forward to a high standard of competition.
According to Banteidor the state government is happy to support the championship, which is one of three mega-events planned for 2022, the other two being the Meghalaya Games in May and North East Olympics in October-November.
Metbah stressed on spreading the sports events to rural areas of the state.
"It was the success that Meghalaya has had in hosting other events that helped the Table Tennis Federation of India to grant this championship to the state and the credit has to go to the minister in charge, the Sports and Youth Affairs Department, the MTTA and others," the Speaker said.
He wanted the players to be brand ambassadors for the youth of the country.
Over 450 paddlers to take part
The championship will see the participation of 38 men's teams and 35 women's.
Over 450 paddlers are taking part at the event at the Sports Authority of India Training Centre.
The tournament is organised by the Meghalaya Table Tennis Association with the support of the Meghalaya government.
Also present on the occasion were Director of Sports & Youth Affairs Wanri Booth, Meghalaya State Olympic Association Working President John F Kharshiing, MSOA General Secretary Finely Pariat and others from the MTTA.
Many matches 
Several matches were held on Monday.
Team events featured on the first day.
The Railway Sports Promotion Board (RSPB), Bengal A, Haryana, Petroleum Sports Promotion Board (PSPB), Maharashtra A, Tamizhaga Table Tennis Association (TTTA), Maharashtra B and Karnataka held two rounds of matches.
Two teams from each group will go to the knockout stage.