Feature
An inspiration for life
A granddaughter remembers the contributions of her grandfather to India's development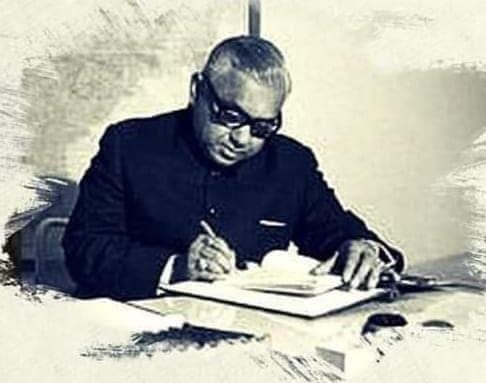 Varalika Mishra
An inspiration leads you to unleash your own potential from within. When the inspiration lived in one's own family, it guides you to never succumb to defeat and work towards larger goals.
Being the grand-daughter of Late Lalit Narayan Mishra, I have imbibed inspiration, strength and humanistic ideals from his personality. Even though I did not have the good fortune to meet him in person or interact; his legacy empowers me to a great extend.
His contribution towards India's welfare has been quite commendable. His dynamic personality was evident since his student days as he was part of the freedom movement while he was in college. This states his ideals and creativity to work for humanitarian goals.
From a very young age, my grandfather devoted his life to the nation. He was fondly known as 'Lalit Babu' by the people of Bihar. He was born on February 2, 1923, on Basant Panchmi at Basanpatti in Saharsa district of Bihar. His inherent nature to serve humanity and work for public welfare came from his family legacy.
His immense contribution to the Kosi region has been highly appreciated. As a young child, he had observed the flood situation, destruction of livelihood and erosion of transport structure due to the turbulent situation of the Kosi river. His will-power compelled him to bring a solution to the problem by working on the entire Kosi region.
He was lauded for his contribution to the Kosi project, which earned him the name 'Kosi Mishra' in the Lok Sabha. He had surveyed the situation of the Kosi region with Pt. Jawaharlal Nehru who was the prime minister at that time. The efforts were in the formation of Kosi Barrage and Kosi irrigation scheme. He is also known for implementation and construction of rail line in Farakka, West Bengal, Mithila University in Darbhnaga, Akashwani Kendra and for his contribution to the railway system.
As the Railway Minister of India, he focused on the development of Indian Railways. His work in connecting rail lines in Bihar, Saharsa-connecting Darbhanga to the road was highly praised. His vision was to enforce rapid economic-industrial development with establishment of railway lines.
He was a great nurturer of Indian art, culture and religion. He had restored several ancient temples in India-Nepal during his lifetime. He had implemented several public welfare programmes to remove backwardness and poverty in rural areas.
He had organised Bihar Provincial Students Congress in 1941, was its Secretary in 1945-46 and its President from 1946- 1948. He pursued his MA in Economics from Patna University in 1948 and pursued his research work in jute cultivation in Bihar. He was also a Fellow of Patna University Senate in 1948- 1949.
My grand-father always wished to learn new things and it was evident from his qualifications. Learning is an ongoing process in life and I feel motivated to imbibe that in life.
He held various positions in the political arena. In fact, it was Shri Krishna Sinha, Bihar's first Chief Minister on whose recommendation Pandit Jawaharlal Nehru appointed my grandfather as a Parliamentary Secretary.
My grandfather held a number of positions in the Congress and ministerial portfolios in its government at the Centre. He joined the All India Congress Committee in 1950 and was member of the First and Second Lok Sabha from 1952-1962. He was member of the Rajya Sabha from 1964 to 1966 and then from 1966 to 1971. He was elected as member of the Congress Working Committee in 1972. He held various posts in the Congress Party and also in the Government at that time. He was Parliamentary Secretary, Ministry of Planning, Labour and Employment (1957–60), Deputy Minister for Labour, Employment; Planning (1960- 1962), Deputy Minister for Home Affairs (1964–66), Deputy Finance Minister (1966–67), Minister of State for Labour, Employment and; Rehabilitation (March- November,1967), Minister of State for Defence Production (1967–70).
From 1970 till February 4, 1973, he was Minister of Foreign Trade. This period marked an increase in volume of exports and state participation in foreign trade. On 5 February 1973 he was made Cabinet Minister of Railways by then Prime Minister Smt. Indira Gandhi.
Internationally too, he represented India on various platforms. As a leader and official state representative, my grandfather had led an Indian delegation to the second United Nations Conference on Trade & Development in Santiago. He also led an Indian delegation to the United Nations Economic Commission for Asia in Bangkok and Manila.
Apart from the political venture, my grandfather also played an important role in popularising Mithila art. His entire life was value creating. Having contributed immensely to the country's welfare, he is a true heroic figure for every Indian and especially for me. The more I read about him, more I feel inspired to lead a humanistic life.
Unfortunately, on January 2, 1975, while declaring open a broad gauge railway line, my grandfather was seriously injured in a bomb explosion on the dais and succumbed to his injuries a day after in a railway hospital in Danapur. Even today, people gather in huge crowds to pay him tribute on his death anniversary and birth anniversary in Bihar.
My grandfather lived for the country and his entire life was devoted towards the welfare of the country, especially Bihar. People of Bihar till today remember his hard work and service for the nation. He is a heroic inspiration and legend for every Indian.  Serving the entire humanity without any discrimination was his life philosophy. As his grand-daughter, I will remember him fondly as a true leader of India who sacrificed his life for the nation.
(The author is a freelance journalist and mental health activist)