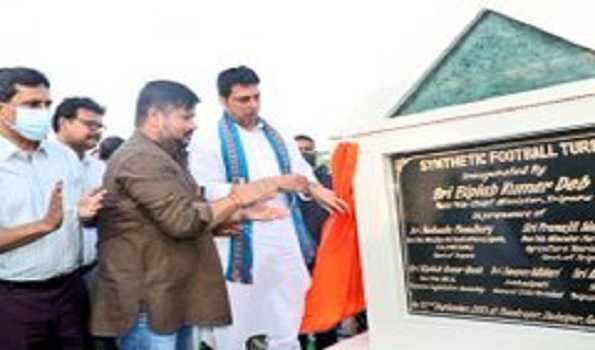 Udaipur (Tripura), Sept 22 (UNI): A total of Rs 5 crore has been spent to make a construction of Synthetic Football Turf at Chandrapur, Udaipur, Gomati District of South Tripura in view of consideration of Khelo India scheme for the development of sports sector.
The ground has been inaugurated by the Chief Minister of Tripura Biplab Kumar Deb with the presence of Ministers Shushanta Chowdhury and Pranjit Singha Roy on Wednesday.
Following the report of sports department that a total sanctioned amount of Rs 5-crore fund released by Ministry of Youth Affairs and Sports (MOYAS) in compliance with two instalments to implement the project by implementing agency department of Directorate of Youth Affairs and Sports, which was constructed by Manipur Industrial Development of Corporation Ltd Executing Agency.
This is for the first time in Tripura, a synthetic football turf of international standard has been constructed at Chandrapur and the synthetic football turf carpeting area is about 108m x 68m, including the playground 100m x 64m, which ground was certified by the FIFA team.
The Youth Affairs and Sports Department, Tripura has informed it in the report that the Government of Tripura had formulated the sports policy 'Sports for All' for the state in the year 1997.
For practical implementation of the policy, the state government undertook well planned long-term scheme for all-around development of an individual through participation in physical education, games and sports and other youth activities. Some important aspects of the scheme are; creation of modern infrastructure for the development of games and sports, the enhancement of the standard of sports performance in the State to National and International levels and others.
In Tripura, the examination pattern and assessment criterion of promotion policy has been reform for classes III to XII like relaxations for students participating in sports events in case of separate schedule of examination for students participating in national or international events.
The Department of Youth Affairs and Sports Department has also informed it that the inter hostel competitions are conducted every year to provide them wider exposure and scope for improving skill. During the year 2019-20, the Department had spent Rs.3.80 lakhs to achieve the objective.
During the year 2019-20, Sports Goods like Football, Volleyball and Cricket set had been provided to all Scheduled Tribes Boys and Girls Hostels which are run by the Government of Rs 25.92 lakh.