Headlines
CM, MLA speak in local languages demanding recognition
Shillong, Sep 14: Chief Minister Conrad Sangma said on Wednesday that the legislators should be allowed to speak in Khasi and Garo languages during debate to send out a strong message to the Centre about the sincerity and determination of the state in obtaining recognition for the local languages.
"This will be a big message of inclusion and diversity," Sangma said while replying to a call attention question by MLA Mayralborn Syiem.
Sangma also spoke in Khasi and Garo to drive his point. Syiem too spoke in Khasi and appreciated the efforts of Khasi Literary Society and the Achik Literary Society.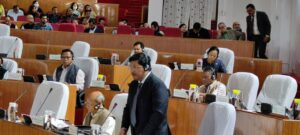 While calling attention, Syiem elaborated on why Khasi should be recognised in the Eighth Schedule first and Garo later.
Sangma said both the languages meet all the criteria for the recognition.