Headlines
House witnesses noisy scenes on border issue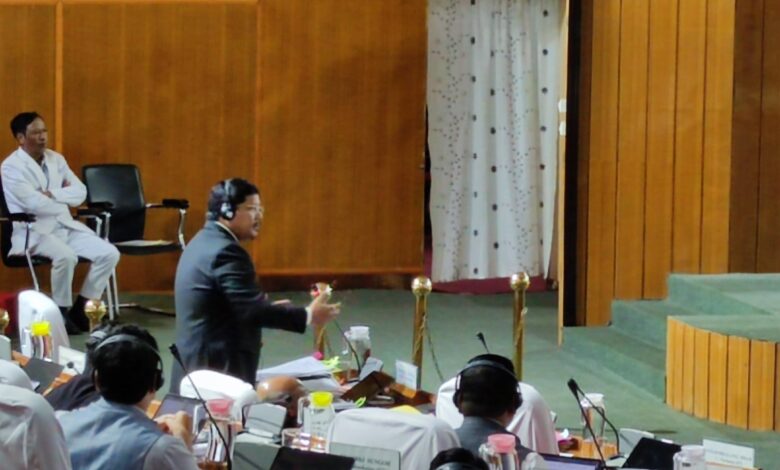 Shillong, Sep 14: The state government on Wednesday rejected reviewing the MoU signed with the Assam government for the first phase of border settlement.
This has irked North Shillong MLA, Adelbert Nongrum, who in an emotional outburst  questioned the government's intention.
While Nongrum dared the chief minister whether he will go ahead with the MoU, the latter dared Nongrum to name the areas of difference.
Nongrum said KHADC and the traditional heads were not taken into confidence while finalising the border deal.
However, the chief minister said all were consulted.
Deputy Chief Minister Prestone Tynsong intervened and asked Nongrum not to dramatise the situation, while the Speaker asked the members to keep the decorum of the House.
Conrad said during the border talks, the government took into consideration people's views and suggestions from stakeholders. "It is a continuous process. I request the members of the House to bring to our notice the villages which they are identifying. We can't promise anything but we will definitely take these up," he added.
Nongrum was initially unhappy with the Speaker who according to the MLA did not allow him to ask questions though he had raised hand.
However, the Speaker said he had no intention to stop the MLA and allowed only one question.
Though there was a demand to review the MoU, the government is not inclined to do so.
"The question of reviewing the MoU does not arise… the MoU is the result of multiple factors and multiple meetings,"  Conrad asserted.
Conrad informed that the talks are based on the map shared by the state with Assam in 2011 and "most of the villages have come to us".
MLA points out contradiction 
When Trinamool Congress MLA George Lyngdoh pointed out that the MoU signed in the first phase did not consider the villages outside the areas of difference but were on the 2011 map, Conrad insisted that the talks with the neighbouring state were based on the earlier demands.
He pointed out contradictions in the MoU and the 'faulty'  decision taken by the government.
Lyngdoh referred to point number 9 of the MoU on the border which stated that the villages outside the areas of difference will not be considered though they are included in the Meghalaya map.
Lyngdoh pointed out a contradiction that some areas under Khanapara which were not in 2011 map were included with Assam.
However, the chief minister said, "We have to justify if we make a major change in our demand".