Headlines
CM visits Mawsynram, hands over ex gratia sanction letters to families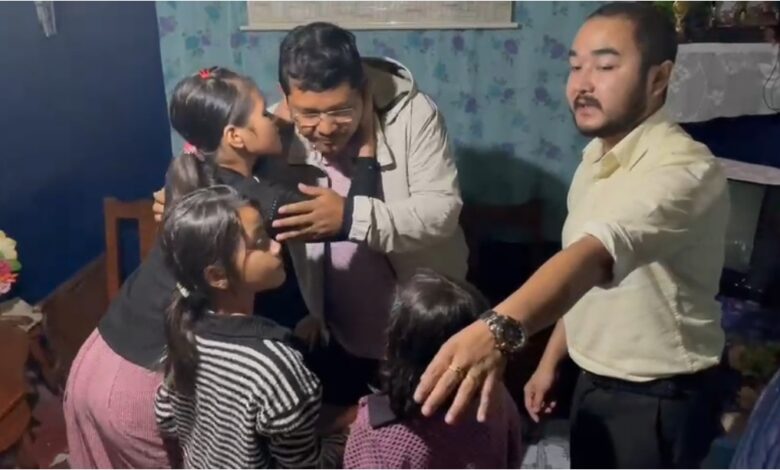 Shillong, June 20: Chief Minister Conrad  Sangma on Monday visited different landslide areas under Mawsynram block in East Khasi Hills and handed over an ex gratia sanction letter to the next of kin of the families, who lost their lives in the recent landslides.
In two separate incidents at Dangar and Kenmynsaw, many people  lost their lives, which included four minor children. At Dangar and Mawpen, the chief minister met family members of Sanborlang Marak, who lost his wife and four children.
At Mawpen, the chief minister handed over an ex gratia sanction letter to Sanborlang Marak's in-laws. Sanborlang Marak, a survivor of the incident is undergoing medical treatment at a hospital in Shillong.
His family is being given Rs 20 lakh ex gratia, for the five members' demise. The sanction letter was handed to the mother of (L) Kyllity Langpen, Marak's wife.
At Dangar, the chief minister interacted with the villagers and informed them that the restoration of electricity and mobile connectivity in the area is being looked at by the government. He also told the gathering that restoration work is underway at multiple locations along the Shillong – Mawsynram route.
"We have started restoring the power line and I am hopeful that we should be able to get back the power very soon. Even the roads that are blocked, we are taking extra care to ensure that road connectivity is also brought back to normal," the chief minister said.
He told the gathering that the road to Dangar has been sanctioned by the government and the work will commence. He also informed that the bridge at Kasimara area will be sanctioned by the government.
At Kenmynsaw village, the chief minister met the three minor survivors, who lost their parents in the landslide. He expressed his condolences to the family members and handed over the ex gratia sanction letter to the family.