National
North East
State
College of Agriculture, Kyrdemkulai focuses on natural farming practices
Two-week training programme for experts concludes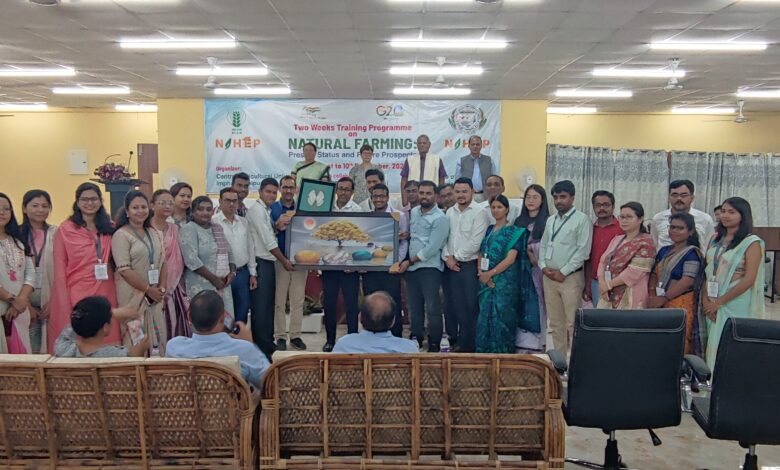 Shillong, Sept 10: The College of Agriculture (Central Agricultural University – Imphal),Kyrdemkulai, in collaboration with National Agricultural Higher Education Project (NAHEP), ICAR, New Delhi organised a training programme on "Natural Farming: Present status and Future Prospects" from  August 28 to September 10.
The Vice-Chancellor, CAU, Imphal, Manipur, Dr. Anupam Mishra presided over the inaugural session of the training programme on August 28.
Dinesh Kulkarni, an expert in agriculture matters, graced the inaugural session as chief guest. The Vice-Chancellor, CAU, Imphal elaborated the need of natural farming in Indian context, need for generation of competent human resources for implementing the B.Sc. degree programme in natural farming in the near future. He also explained about One Health Card concept. Kulkarni expressed concern over distress among the farming communities, especially the exorbitant cost of agricultural inputs, wide-spread degradation of land and depletion of water resources, steady decline of the independency of the farmers in decision making on their choices, and over all poisoning of agriproducts. Other guests of honour present were Dr. V. K. Mishra, Director, ICAR-RC for NEH Region, Umiam, Prof. Ph. Ranjit Sharma, Director of Extension Education, CAU, Imphal, Manipur and Prof. Dwipendra Thakuria, Dean, CAU-College of Agriculture, Kyrdemkulai.
The course director Thakuria explained the background information and relevance of the training in the present-day context for the promotion of natural farming in India.
The enthusiastic young participants were Assistant Professors and Junior Scientists from four agricultural universities namely Odisha University of Agriculture and Technology (OUAT), Bhubaneswar; Bidhan Chandra Krishi Vishwavidyalaya (BCKV), Mohanpur, West Bengal, Assam Agricultural University (AAU), Jorhat, Assam and Central Agricultural University, Imphal, Manipur.
The two-week programme consisted of a series of lectures by 26 national experts on natural farming from across the country and 5 nationally acclaimed natural farm practitioners as resource persons. Altogether 30 lectures and 11 practical exercises were conducted. The training also included 3 days of field visits to natural farming villages namely Nalapara (mixed crop natural farm model) and Mawphrew(horti-fishery-crop model) in Ri-Bhoi district,  including integrated farming system models and FATE and CTGC facilities for climate change research at ICAR-RC for NEH Region, Umiam.
A series of practical demonstrations-cum-laboratory analyses were conducted for trainees on mass production of native efficient biofertilizers, biopesticides, various indigenous cow centric products like Jeevamrutha and FYM, Ghanjeevamrutha, Kunapajala (first vedic microbial formulation), mulching, Inter-/ mixed/ poly crops, local cultivar seeds, homemade materials (Kasayams) for pest and diseases control- agneyastra, neemastra and others.
Subject matters are system approach, planning and design of natural farm units, ecological linkages within farm unit, soil health management, biodiversity, agroforestry, livestock/fisheries management, crop/breed/strain improvement, plant protection, weather forecasting, and soil water management), supporting components (agronomic practices, biocultures, renewable energy resources, bio-waste resource management, crop management, improved indigenous farm tools and small machineries, and post-harvest management), and socio-economic components (nutrition and health, community mobilisation, standards and certification, marketing and agro-eco tourism).
Eminent resource persons were Dr. Puranjan Das, Prof. Rajeswar Singh Chandel, Prof. Indira Sarangthem, Prof. R. K. Saha, Dr. Sridhar, Prof. Sunita Pandey, Prof. P. P. Sastry,Prof. Biswapati Mandal, Dinesh Kulkarni, Bhagaiahji Vadla, Manojbhai Solanki,Prof. Deben C. Baruah,Prof. D. Thakuria, Dr. Vandana Dwivedi, Dr. S.K. Das, Dr. VirendraVerma, Prof. Ram Singh,Dr. S.K. Roy, Soma Roy Acharjee,  Jagadeesh Reddy; Dr. Chepuri Bhasker Rao, Dr. Balaram Sahu, Prof. Pranab Sarma, Dr. Lokesh Mishra, Dr. S.M. Haldhar and Dr. Krishnappa R.
The valedictory session of the training programme was held on September 9 at the College of Agriculture, Kyrdemkulai.
Minister of Agriculture and Farmers' Welfare  Amapreen Lyngdoh, graced the valedictory session as chief guest. The session was presided by Dr. P. Das, Ex-DDG (Agril. Extension), ICAR, New Delhi. The minister expressed satisfaction about the quality of the training and progress on the development of college of agriculture, Kyrdemkulai.
Lyngdoh also assured necessary support for the development of the college.
Dr. P. Das talked about ecological footprints, biocapacity and need for natural farming. Other guests of honour present were Prof. Indira Sarangthem, Dean, College of Agriculture, Iroisemba, Imphal, Manipur, Prof. Rattan K. Saha, Dean, College of Fisheries, Lembuchhera, Tripura, Dr. Sridhar, Dean, College of Horticulture, Thenzawl, Mizoram, Director (I/C), Department of Agriculture, Government of Meghalaya and others.
Prof Thakuria, Dean, and Course Director, College of Agriculture, Kyrdemkulai welcomed the dignitaries and participants and presented briefly on principles of agro-ecology, components of natural farming, importance of natural farming on maintenance of agrobiodiversity and soil biodiversity and about the various activities performed during the training programme.The participants from the four agril. universities i.e., OUAT, Bhubaneswar; BCKV, Mohanpur; AAU, Jorhat and CAU, Imphal conveyed their observations and level of satisfaction based on a structured questionnaire specially developed for the purpose.
The knowledge and practical experiences gained from various resource persons, field and laboratory visits will certainly help the young enthusiastic faculty members in taking up teaching and research activities in their respective universities under natural farming programme in the immediate future. Prof. Pranabjyoti Sarma, Course Coordinator of the programme , who proposed the vote of thanks for the successful completion of the training programme.