State
Cong on revamp mode, launches membership drive for youths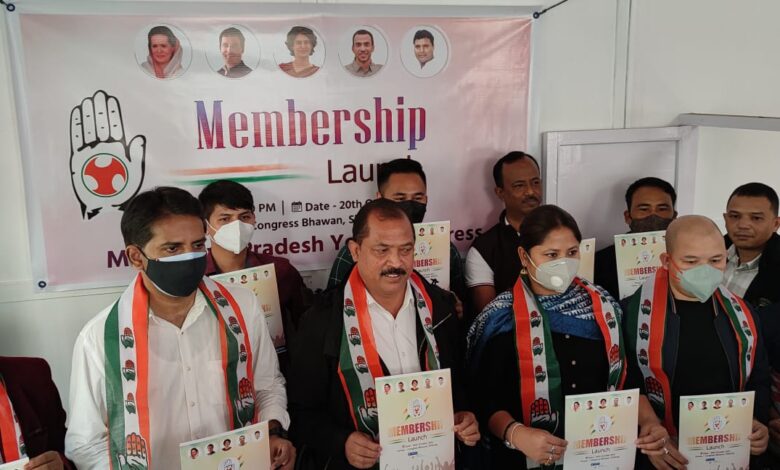 Shillong, Oct 20: The Congress has launched membership drive for enrolling the youth of the state in the party.
Speaking to reporters, Indian Youth Congress (IYC) national secretary in-charge Meghalaya Sarifa Rahman said  the membership drive will start from November 12 to December 12.
"There age limit for enrollment is 18 to 35 years so anybody who is under 35 and is willing to be a part of the Indian Youth Congress (IYC) and national Congress can enroll himself or herself in the organisation," Rahman said and urged the youth to download the IYC App for enrollment.
The membership drive was launched in the presence of MPCC president Vincent Pala.
Sarifa said there will be no separate election for the youth Congress as it will be held along with the membership drive but there will be certain criteria.
The IYC  leader hoped that the membership drive will cross more than one lakh in the state.
"We have completed 1 lakh membership in Arunachal Pradesh, a state where the Congress does not have many MLAs. We are in very good shape in Meghalaya, we have very good leaders and active youth congress, so I believe we will cross one lakh or maybe more than that," she said.
To a question on revamping the Congress which is in bad shape, she said, " We have actually a tenure of 3-4 years of IYC. I think Congress is not in bad shape. In any tribal state, the organisation is revived before 6 months or one year before the election".
"Congress is very much active and I believe we have given power as PCC president to a very good person and the Congress will definitely revive and in the coming days, we will form the government here," she said.
On Congress deserters,  Rahman said  such people are selfish as they are not thinking about the party.
"The party which has given you so much just because today if party is little weak, rather than supporting you are going to other party and joining hands with others that means you are greedy, you are selfish that's all I can say," Rahman  said.
Pramod Kumar, Pradesh Returning Office, Youth Congress Election Authority has explained the process of enrollment.
MPCC app
Pala later informed that the MPCC will also launch an app for enrollment of not only the youth but other people in the party.
"We have a good team which is preparing the app. It is under trial now so very soon within a week we are going to launch, we are not going to wait till election is over," he said.