National
Congress was the root of terrorism and corruption: Yogi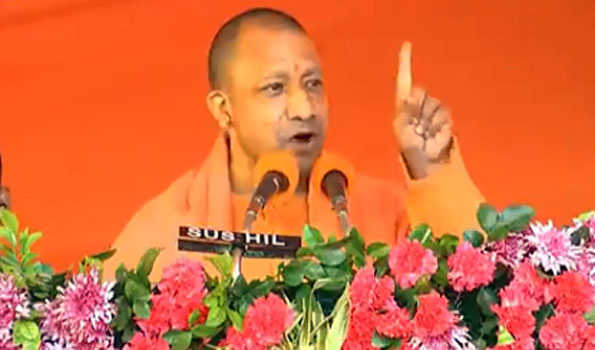 Raebareli, Dec 31 (UNI): Terming the Congress as the root of terrorism, extremism, communal riots and corruption, Uttar Pradesh Chief Minister Yogi Adityanath on Friday said the BJP is working towards the overall development of Raebareli and 'sweeping out' negativity along with Congress.
Sitting Congress MLA from Harchandpur assembly segment in the district Rakesh Pratap Singh joined the BJP here in the presence of Yogi.
Addressing BJP's Jan Vishwas Yatra after launching 381 developmental projects worth Rs 834 crore, Yogi said, "After MLA Dinesh Pratap Singh and Aditi Singh, Rakesh Pratap Singh from Harchandpur has also formally joined BJP today. With his support, I am sure the task of uprooting the Congress from Raebareli will be done and the district will witness overall development."
In a fierce attack on the Congress, he said, "In Raebareli, Rana Benimadhav never accepted the foreign rule, but despite this, why were the people compelled to wrap a dead snake like Congress around our neck?"
"Congress was the root of terrorism, extremism, communal riots, corruption in the country," he said.
Mounting an attack on the Congress Party once again, the CM stated, "When the Congress used to form their government, they instigated hatred against Lord Ram and Krishna, the people of the country should not have tolerated it. It was during the Congress rule in 2005 that people tried to demolish Ram Setu. Those who falsified the existence of Lord Ram are seeking public support. But today, the public representatives are joining the BJP one by one because we respect the faith of people."
Coming down heavily on the previous governments over seizure of unaccounted cash, Yogi said that today JCB is digging out piles of currency notes that were swallowed by the corrupt for their own benefits.
"Earlier the money for public welfare used to go into the pockets of those in power. Before 2017, houses were never allotted for the poor, after 2017 till now we have given 43 lakh houses. The people who gave the slogan of 'Samajwadi Itra' (perfume) used to spread the stench of corruption in reality. Now, you must have understood why these people used to oppose demonetisation."
Announcing that the PM will transfer the amount of Pradhan Mantri Kisan Samman Nidhi in the accounts of around 2.54 crore farmers of the state on January 1, Yogi said that on January 3, an amount of Rs 1,000 each will be transferred to the accounts of about 4.5 crore workers.
On January 5, an amount of Rs 1000 will be transferred in the accounts of one crore destitute women, old people, and Divyangjans.