Sunday Monitor
Connecting through art
Scholars from several countries talk about local art forms at a 5-day workshop in city
Raphael Warjri
An art camp was held in the city recently to explore creativity across borders and cultures. The five-day workshop, Cross-cultural Identities: A Dialogue Through Art, saw an assembly of scholars from Thailand, South Korea, South Africa, Sri Lanka and India who demonstrated their creativity through paintings on canvases and performing arts at the ICSSR Complex at North Eastern Hill University (NEHU).
An array of topics was presented during the workshop and the scholars and artists shared their thoughts through presentations of works of art.
The northeastern region of India was represented by Dr Moushumi Kandali of Tezpur University, Dr Nabajit Deka, principal of Government College of Arts and Crafts, Assam, Benedict Skhemlang Hynñiewta of Centre for Cultural and Creative Studies, NEHU, and renowned local artist Raphael Warjri, chief creative director at Riti Academy of Visual Arts.
Kondali gave an overview of the growth of northeastern traditional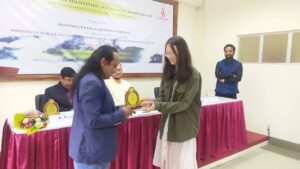 arts and culture. Dr. Nawat Lertsawaengkit of Silpakorn University, and Dr Khan Payungphan of Phuket Rajabhat University, both in Thailand, spoke about their country's art forms. While the former gave an insight into the contemporary art interpretation of Naka, the mythical serpent known as Nantopanantthasut Kamluang, the latter spoke about the art in the symbols of southern Thailand boats.
Hynñiewta and Warjri spoke about local deliberations on the folkloristic connection in Khasi contemporary art and the quest for visual identity, and the absence of tangible image depiction in Khasi visual art tradition, respectively.
In his valedictory address, Warjri recalled the international art events that took place in Meghalaya. He said the first international art camp was organised in 1999 under the theme of the numerical 9/7, which has universal significance in various cultures, then the Thoh Shun International Art Camp in 2006 was organised by the Riti Academy of Visual Arts with the participation of artists from Europe and Asian countries.
However, he cherished the multi-disciplinary art workshop on cross-cultural identities organised by Positive Energy Art Foundation, which addressed the dynamics of local aspirations in relevance to international exposure of regional indigenous art and cultural expression.
FR Kharkongor, Commissioner and Secretary, Arts and Culture Department, said, "Industrial age sought to seek convenience for the people with automation, then the age of information created a synthesis among various social and cultural expression and value clarity on every aspect of human society; the present era is the age of imagination where creativity is nourished and connectivity to mankind is being facilitated through art."
(The author is a Shillong-based artist, filmmaker & writer)