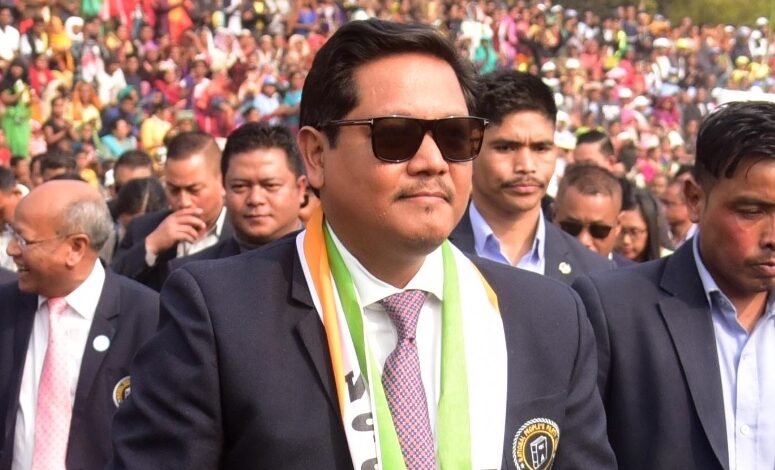 Shillong, Jan 23: The National People's Party (NPP) chief Conrad Sangma on Monday extended his respect to TMC supremo Mamata Banerjee for once supporting his father late P.A Sangma but cautioned her that many leaders from the AITC will leave after the elections.
Launching the election campaign of the party from Adokgre, North Garo Hills, Conrad said,  "Madam Mamata Banerjee, that many leaders have joined you today; many leaders from different political parties have joined the TMC. But let me tell you and this is not Conrad Sangma saying it, this is the word in the market and you can ask anybody, you have lot of people in different networks they will tell you, that most of these leaders who have joined the TMC today have already planned to leave the TMC after the elections. They are already in contact with different political parties; they are already talking to many people. I am not saying this, this is the word in the market, in the political circle".
TMC an outsider 
At the same time, he also took the same stand of  TMC branding BJP as an outsider and said that infact TMC is an outsider in this poll.
"TMC is an outsider party, much in the same way TMC had labelled BJP in the West Bengal polls.TMC is new in Meghalaya and they will need lot of time to create any sort of impact here. Their leaders are all old players, who have come from Congress and have got scope to serve Meghalaya when they were in Congress but have failed. TMC is yet to understand the Northeast and its people, they would need time, they are an outsider in Meghalaya just like TMC had claimed BJP and other national parties were outsiders in Bengal elections," Conrad added.