North East
Deb blows early poll bugle with HIRA sparkle
CM says highway, internet way, railways & airways got boost under BJP-IPFT govt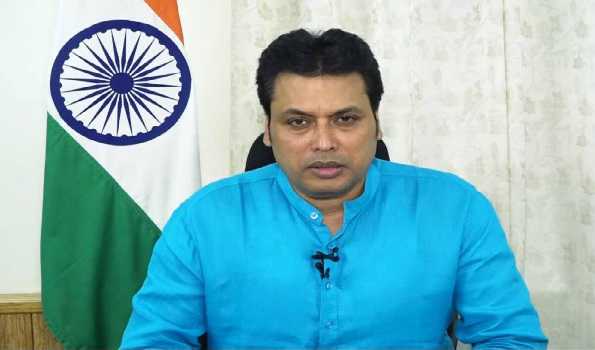 Agartala, Sept 13 (UNI): Tripura Chief Minister Biplab Kumar Deb on Monday claimed that Prime Minister Narendra Modi has already given HIRA to the people of Tripura, as he had committed before the last assembly elections.
HIRA stands for highway, internet way, railways and airways, which got a massive boost under the BJP-IPFT government in three and half years, he said.
While addressing a party rally at Kailashahar of Unokoti district, the chief minister rang the bell for the next assembly elections about one and half years before the schedule.
"The digital India movement has made an exceptional contribution to the public life and rural economy of Tripura along with bringing transparency in the governance. The digitisation of ration cards has made Tripura a success in Tripura for one nation one card. By which a consumer of Tripura can withdraw his monthly ration from any part of the country and from one location to another in the state as well according to convenience," Deb said.
The chief minister, however, underlined that more than 1,200 Common Service Centres (CSC) have been operating in the state at present which was less than 400 in number during the left front regime. Because of online governance and services, people residing in distant villages have been using the CSC facilities that increased the income of the CSC operators up to Rs 40,000 per month.