Headlines
District administration biased in issuing notice to leaders of Voice of Mawlai: HITO
NGO says no action taken against BJP gathering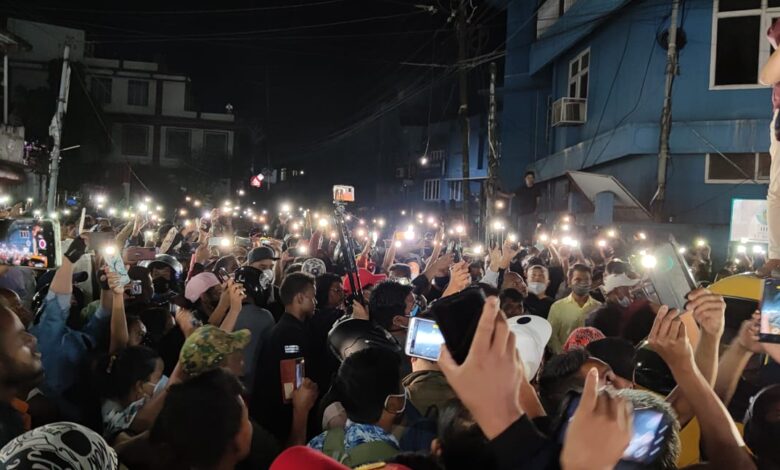 Shillong, Sept 4: The Hynñiewtrep Integrated Territorial Organization said it is anguished over the manner in which the MDA government is trying to suppress the rights of people on various issues citing the example of notice served to six leaders of 'Voice of People of Mawlai'.
"We have seen this time and again when the law is subverted by the district administration on numerous occasions. It seems odd that the benchmark for a violation varies from incident to incident", HITO president Donbok Dkhar said.
HITO drew the attention of the people towards the recent notice served to the organisers of the gathering at Mawlai to protest against the killing of surrendered HNLC leader Cherish starfield Thangkhiew besides the thousands that attended his funeral.
"Surprisingly, the district administration has issued prompt show cause notices to several selective individuals and groups only. For example, no legislator who attended the funeral was questioned and neither the leaders of pressure groups who attended the funeral and the protest rally. In fact, even the undersigned and our members were present at the funeral to pay our respects to the departed soul, but no action has been initiated against us", HITO said
HITO pointed out that similarly, way back on April 29, 2006, the then Chief Executive Member of the KHADC (L) HS Shylla had through a senior advocate had served a notice to (L) Hopingstone Lyngdoh, the then legislator from Nongstoin, the then KSU President Samuel Jyrwa, Langrin Youth Welfare Association and John F Kharshiing for building public opinion against uranium mining in the state.
"We wonder if the swift action was in response to a complaint/s from any quarter or was it based on media reports and social media", HITO said.
According to Dkhar, notwithstanding that, the question here is, if in the past, prompt and strict action was initiated against violators, then why is it that now, the East Khasi Hills Deputy Commissioner who is seen as a young and upright officer, is sitting on a complaint of blatant gross violation of Covid protocols and SOPs by the BJP which organised a booth level meeting of 19-South Shillong Legislative Assembly at Assam Club in Laban on July 31.
The meeting was attended by BJP national general secretary, Arun Singh and MP Rajya Sabha and Ajay Janwal, BJP NE General Secretary (organisation) among other senior party functionaries.
HITO wanted to "know whether this means that the government suppressed the DC by issuing an order through the home (political) department on July 29 by granting permission.
"Why is the DC silent on this despite a formal complaint was lodged by HITO against the DC and SP for allowing the political event which had no relation to Covid-19 management or relief measures," Dkhar said.
HITO took exception to the step motherly attitude of the district administration in responding to complaints and asked to take immediate and effective steps to address its complaint on the  violation, "otherwise it would only indicate clearly that the district administration is merely a tool of the anti-people government of the day."