Headlines
Fresh FIR against Thomas Sangma, victim deposes before magistrate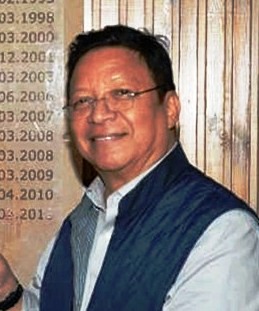 Shillong, June 26: The woman, who is the victim of alleged rape by NPP legislator Thomas Sangma, deposed before the magistrate on Monday, and an additional FIR was filed by her at Sadar police station.
Earlier, after the first FIR, the police had registered a case under IPC sections 376( rape) and 506 ( criminal intimidation) against Sangma, who subsequently secured bail.
In the fresh FIR, the woman said Sangma had been threatening her that he would commit suicide if she had disclosed his name to her parents and other family members that she is pregnant from Sangma. He also wanted her to abort the baby.
The woman said that she did not stress this aspect in the first FIR but wanted to mention now for a further probe.
The woman admitted that there has been a delay in giving this information but wanted the police to register additional charge for forcing her to abort the child and also for the threat of the accused to commit suicide.
In the first FIR filed on June 1, the victim had alleged that the  MLA had raped her multiple times and assured to marry her after she became pregnant.
Through the second FIR, the woman wanted the police to include section 375 of IPC.
The victim has decided to send a copy of the FIR to the chairperson of national commission for women in New Delhi.
Earlier, the victim had petitioned the DGP to change the investigating officer.
The lawyer of the victim, PT Sangma said the bail granted to the MLA will be yet again challenged in the High Court though he withdrew the earlier petition due to error.
Earlier, the chairperson of the Assembly Committee for Empowerment of Women, Ampareen Lyngdoh had written to the Assembly Speaker Metbah Lyngdoh to remove the legislator from different Assembly committees.