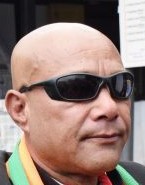 Shillong, July 27: The BJP MLA from South Shillong, Sanbor Shullai has replaced his party MLA and Health Minister AL Hek in the cabinet.
The swearing-in has been scheduled at 4 pm on Tuesday.
The portfolios to be handled by him are yet to be known.
The sudden development comes after the visit of BJP central leader Amit Shah.
Shullai confirmed that the cabinet berth was made possible after the visit of Shah to Shillong.
In the past, Shullai had urged the central leaders to rotate the cabinet and induct him in the ministry but that was not adhered to.
When asked, Shullai said Hek will be given other responsibilities.
With this development, Hek may be given the post of state party president as there already two factions raising the issue.
Hek was not available for response as his mobile phones were switched off.