Headlines
George corners Conrad on unfilled posts
Shillong, Sep 16: Trinamool Congress MLA from Umroi George Lyngdoh caught the chief minister on wrong foot on the last day of the autumn session of the Assembly when debating on the number of unfilled sanctioned posts in government departments.
During the question hour, Lyngdoh wanted to know the number of vacancies from 2018 to 2022. To this, Conrad Sangma, instead of giving specific numbers, said the matter is complex and any data without verification would be misleading.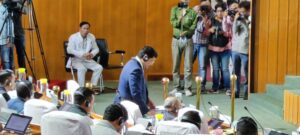 To this, Lyngdoh said he wanted specific numbers and "if the government does not have, it is fine".
"How can we give a number when it is constantly changing. We have to do permutation and combination and tally with the current numbers," Sangma said.
Lyngdoh insisted that the government could have given numbers till 2021, of not the latest data. "Why there is a need to do permutation and combination," he added.
Rangsakona legislator Zenith Sangma too questioned the government's intention. "From the reply, the government is intentionally avoiding giving this information," he said.
This came after Conrad said information is being collected with regards to the total number of unfilled sanctioned posts in various departments from 2018 till 2022.
Reacting to Zenith's allegation, Conrad said that the member is free to presume things but all this information has to be collected from the multiple directorates and offices of the different departments of the state government.
According to him, there are over 63 directorates, more than 60 departments, 12 deputy commissioner offices, 6 sub-division offices, 49 blocks and Meghalaya houses in Guwahati, Kolkata, Delhi, Mumbai and others.
"We have more than 200 different offices and even at the district level, there are also offices of different departments. Therefore, the exercise of collecting huge data is complicated but we are in the process of collecting the information," he said.
Not satisfied with the CM's justification, the Rangsakona legislator said he does not know why the chief minister could always give information of the unfilled sanctioned posts till March 31, 2022.
Nongthymmai legislator Charles Pyngrope said that he agrees with the chief minister that many vacancies are happening everyday but there must be some information with the government it can be till this year or it can be to a certain point of time.
Salmanpara legislator Winnerson D Sangma asked why the departments could not provide such information to the chief minister considering the fact that we are living in an IT age.
Conrad informed that more than 3,000 advertisements are being processed by the different recruitment boards. "Therefore, the process is on to fill up the vacant posts in the different departments," he said.