Shillong, July 9: Police seized smuggled gold biscuits and cash and arrested five persons involved in the crime.
DGP LR Bishnoi told journalists on Saturday that on June 24, the operation started after a vehicle coming from Shillong was intercepted in Nongpoh.
From the vehicle, a person identified as Abu Bakkar was picked up and 7 gold biscuits weighing  8 kg worth Rs 50 lakh and concealed on his waistband of the pant, were seized..
Bakkar, hailing from Barpeta, told the police that one person from Shillong gave the gold to hand over to two residents of Barpeta identified as Shah Jahan and Saddique Ali.
After a raid in Barpeta with the help of Assam police, Rs 27 lakh was recovered from Shah Jahan at Barpeta.
Besides arresting the trio from Barpeta, Abu Bakkar, Shah Jahan and Saddique Ali, two from Shillong-Azis Lyngdoh of Dhobighat, Laban and Subalin Kharbani, a resident of Mawlai-were also landed up in police net.
Ten mobile phones were also seized.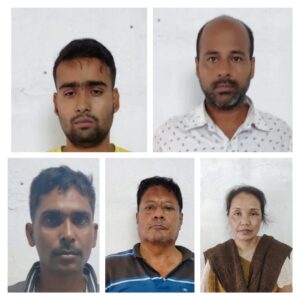 The DGP said from the confessions of the arrested, involvement of inter-state and international gold smuggling gangs was revealed.
Gold  from Gulf countries 
The DGP said the first movement of gold is from the gulf countries, especially UAE and it reaches Bangladesh. Then smugglers transport the items to different states of the North East.