Headlines
Govt explores alternative route for small vehicles
Landslide at Lumshnong
Shillong,June 16: The head of the regional committee on Jaintia Hills, Lahkmen Rymbui, who visited the landslide affected  Lumshnong (in picture), East Jaintia Hills, said on Thursday that it will take sometime to open the road for public transport but the government is exploring alternative route for the movement of small vehicles.
A portion of the national highway at Lumshnong caved in. A truck and another vehicle were damaged.
The landslide at NH -06 has affected the movement of vehicles to Silchar, Mizoram and Tripura.
Rymbui said the NHAI and the state PWD officials are monitoring the situation.
More officials will visit the area on Friday, he added.
"However, we are exploring an alternative way for small vehicles through Star Cement in Lumshnong", he said.
Earlier on Thursday evening, the chief minister announced the formation of four regional panels headed by cabinet ministers to monitor the prevailing situation due to incessant rain in the next 72 hours.
Besides Rymbui, the regional committee for East Khasi Hills and Ri Bhoi districts will be headed by Deputy Chief Minister Prestone Tynsong, for West, South West and Eastern West Khasi Hills by PHE Minister Renikton Lyngdoh Tongkhar and for five districts of Garo Hills by Forest & Environment Minister James K Sangma.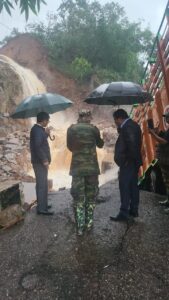 "The chairmen of the four regional committees have also been asked to go for field visits to the area to ensure that there is proper coordination between the different departments and the district officials so that whatever steps need to be taken are taken to  ensure the movement of essential commodities", the chief minister said.
Sangma also directed the DCs and the departments to ensure the supply of essential commodities to the affected areas and to look into measures to be taken to ensure movement of vehicles carrying essential commodities.