Shillong, May 27: The state government has notified the commitee on 'Reservation Roster System' headed by cabinet minister in-charge law Ampareen Lyngdoh, on Friday.
Ardent Basaiawmoit ( VPP) is part of the committee.
Other members of the committee are Zenith Sangma (AITC), HM Shangpliang(BJP), Augustine Marak (GNC), Methodius Dkhar(HSPDP),Ronnie Lyngdoh (INC), Pyndapbothiaw Saibon (KHNAM), WR Kharlukhi (NPP), Renikton Lyngdoh Tongkhar (HSPDP), Chief Secretary DP Wahlang and Commissioner and Secretary/Secretary Personnel & AR (B) department.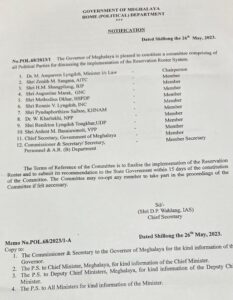 The terms of reference of the committee is to finalise the implementation of reservation roster and to submit its recommendation within 15 days of the constitution of the committee.
The committee may co-opt any member to take part in the proceedings of the committee if felt necessary, the notification said.