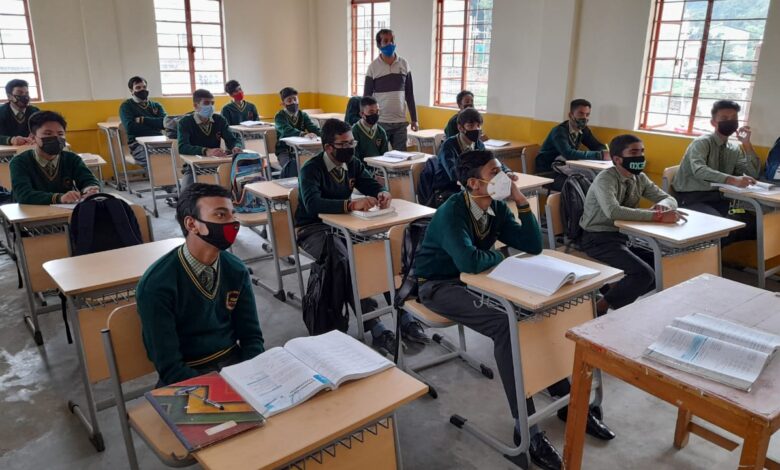 Shillong, Sept 1: The schools will have to hurry up finishing the syllabus as only four hours, including one hour for the practicals, are permitted for teaching.
Mixed response has emerged  from students, parents and teachers  after the schools  reopened from Wednesday.
Laban Bengalee Boys Higher Secondary Schools were in for a surprise when large number of students turned up on the first day .
The attendance was more than 85 per cent.
The school authorities said that all protocols were followed, including handwashing, sanitising class rooms and other measures.
All the staff and teachers are vaccinated.
The students brought their own hand sanitisers and the sick students are not allowed to attend classes. Written consent of parents/guardians were taken before the students were allowed to come to the schools.
Classes (in picture) started at 10 am and ended at 1 pm due to the limited four hours of teaching.
Though the normal classes are four 45 minutes, half an hour each was fixed to teach six subjects without any break.
Some students said protocols were followed and there was no time to mingle with friends though they are meeting face to face after a very long time.
Many were excited to be back to classes as they felt too many online classes were boring and in the class rooms, they can atleast meet thier friends and teachers physically.
The parents and guardians have allowed their students with a hope that all protocols will be followed by the schools to prevent any infections.
St Mary's Higher Secondary School, Laitumkhrah is yet to start classes. "We haven't started yet. We will begin on Monday only for Classes XI and XII", the principal Sr Sonia Chacko said.
The Vice Principal of St. Thomas Higher Secondary School, Mairang,  Sr.Cecilia Kujur said that since the term examination is going on, the classes will start only from Monday.
The city colleges also witnessed moderate attendance of students and the college authorities hoped that there will be full attendance from Monday.