Headlines
ILP in NE raised by NESO during protest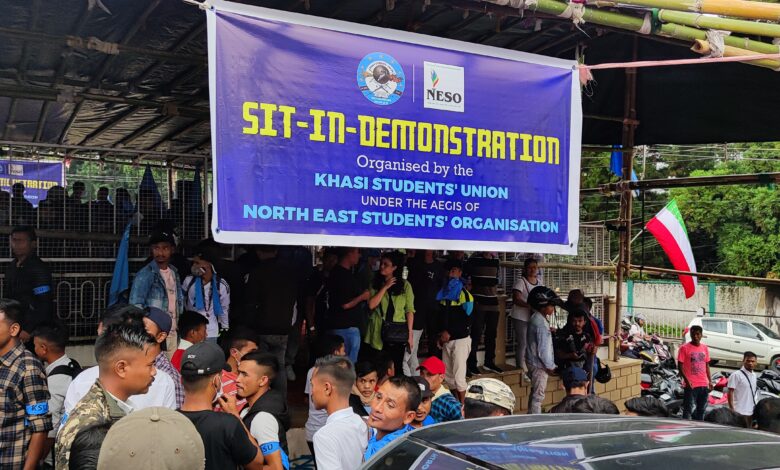 Shillong, Aug 17: The North East Students' Organisation (NESO) has asked the Centre to implement the 12-point charter of demands,  including the implementation of the Inner Line Permit (ILP) in the North East, while staging a sit-in on Wednesday at the Civil Hospital point here.
The participants were the Khasi Students' Union (KSU), Federation of Khasi Jaintia and Garo People (FKJGP), Ri Bhoi Youth Federation (RBYF), Hynniewtrep National Youth Front (HNYF) and Hynniewtrep Integrated Territorial Organisation (HITO).
Repeal of the Citizenship Amendment Act (CAA) and the Armed Forces Special Powers Act (AFSPA),1958, implementation of the Assam Accord are the important demands of the NESO.
Solution to the interstate boundary as well as international border disputes, separate educational policy for NE region based on culture and history of NE region are other demands.
NESO chairman Samuel B Jyrwa told reporters that the sit-in organised by the NESO was held in all the seven states of the North East as the Centre has ignored the demands which are for the protection of the indigenous people of the region.
He said the Centre turned a deaf ear on ILP and repeal of CAA.
On the next course of action, Jyrwa said the constituent organisations of the NESO are free to chalk out the future course of action.
On whether NESO will go to Delhi to pursue the ILP issue, Jyrwa said there is no need to go to Delhi and put pressure on the Centre as it knows about the demand for ILP and other issues concerning the indigenous people of the North East.